Steamcon II Convention to Celebrate "American Steampunk"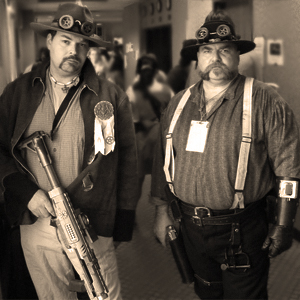 When you think of steampunk, a lot of Victorian (i.e. British) imagery and influences probably come to mind. One steampunk convention, however, has decided that the theme for its 2010 convention should be the "Weird Weird West," or otherwise called "American steampunk."
It's basically like Wild Wild West (you know, as in the Will Smith and Kevin Kline flick).
Let's just let the organizers of Steamcon II explain it for themselves:
Imagine the age of steam on the wild frontier. You are invited to explore with us the world of roughriders on mechanical horses, mad inventors, mystical Indian shamans, and mighty steam locomotives. Picture airships instead of stagecoaches, and the precision of robotic sharp shooters. If western steampunk doesn't appeal, there will still be lots of classic steampunk to partake of as well.
Sounds like fun to us!
Steamcon II is being held November 19 – 21, 2010 at the Hilton Seattle Airport Hotel and the Seattle Airport Marriott in Seattle, Washington. Guests of honor include writer James Blaylock, artist Jake Von Slatt, game developer Shane Hensley.
You can buy tickets for Steamcon II online now. Prices are as follows:
Children under 6 – no charge
Full weekend teen (6-17) – $25.00
Full weekend adult (18 & up) – $45.00
Full weekend teen patron (6-17) – $225.00
Full weekend adult patron (18 & up) – $245.00
On-line sales of memberships will end on October 29th. Single-day tickets will be available at the door. They will cost $30 for the day.
Visit www.steamcon.org for more information, and to buy tickets!