Upcoming Steampunk Conventions for 2011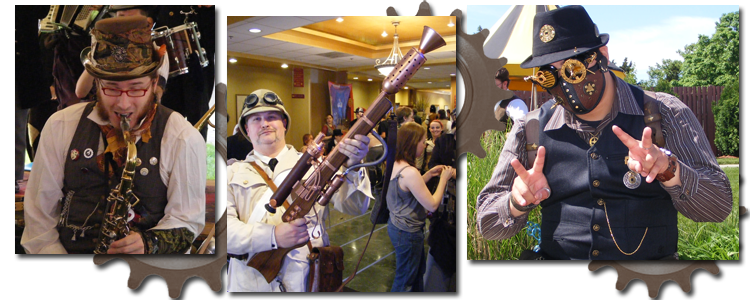 With it's increasing popularity steampunk has gained stronger footholds in the mainstreams of fandom around the world, allowing for more and more conventions each year dedicated entirely to this speculative fiction genre and subculture.
Here are the steampunk conventions, mini-cons and festivals happening in 2011:
When: February 25-27, 2011
Where: Atlanta, Georgia
AnachroCon is the place in the South for steampunk, alternate history, classic Sci-Fi literature, and some amazing costuming. Their venue is the Holiday Inn Select Perimeter.
When: March 26-27, 2011
Where: Denver, Colorado
The first of it's kind in the Rockies; AnomalyCon is a steampunk convention with some stray sci-fi tendencies (like modern mad science). Convention will be held at the Tivoli Student Union in Denver.
When: September 10-11, 2011
Where: Lincoln, England, United Kingdom
Europe's largest steampunk convention. This year it is in Lincoln, England, but they will likely be moving to another U.K. town for 2012 due to Lincoln businesses hikeing their prices up just for the con.
When: April 29-May 1, 2011
Where: Toronto, Canada
Canada's biggest steampunk convention, put on by Steampunk Canada. Held at the Holiday Inn Hotel and Suites Markham-Toronto.
When: January 22-23 (8:00pm – 2:00am), 2011
Where: Curtain Club in Dallas, Texas
The Steampunk Illumination Society is sponsoring this one day festival. It will be held inside the Curtain Club on January 22nd, 2011 at 8pm and last till about 2am on the 23rd. Tickets for this mini-con are $12 in advance and $15 at the door.
When: November 12-14, 2011
Where: Wichita, Kansas
Emerald City is the first steampunk convention in Kansas and they'll be celebrating with a one-day steampunk festival towards the end of 2010 as a lead-up to the main event in November of 2011. Their venue will be The Grand Eagle.
When: May 6-8, 2011
Where: San Diego, California
Gaslight Gathering is Southern California's first convention dedicated entirely to steampunk (and the second ever in California). Gaslight will be held at the Town and Country Hotel in San Diego.
When: March 25-27, 2011
Where: Santa Clara, California
Nova Albion Steampunk Exhibition has a Wild, Wild East theme for 2011. Their venue is the Hyatt Regency.
When: April 15-17, 2011
Where: Oklahoma City, Oklahoma
Oklahoma Steampunk Exposition is Carnivale in theme this year. Will be held at The Stone Garden Hotel.
When: October 14-16, 2011
Where: Seattle, Washington
Chrononauts, aviators, tinkerers, scientists and steampunk enthusiasts oh my! Steamcon works to top itself each year.
When: May 20-22, 2011
Where: Somerset, New Jersey
Steampunk World's Fair is a three-day expedition into yesterday's future. The 2011 venue is the Crowne Plaza Hotel in Somerset, New Jersey.
When: February 4-6, 2011
Where: Warwick, Rhode Island
TempleCon is a retro-futurism celebration of all of steampunk's myriad flavors. Its organizers describe TempleCon not so much as a convention but rather as a three day festival of modern gaming and retro-futurist fandom. Their venue is the Crowne Plaza Providence-Warwick Hotel.
When: 2011 dates TBA
Where: Madison, Wisconson
TeslaCon is an immersion convention; they try to mimic the Victorian era as much as the modern era can.
When: March 4-6, 2011
Where: Tucson, Arizona
Wild Wild West Con is Arizona's first steampunk convention and a re-invention of the hotel-based convention; the core of the event takes place in Old Tucson Studios, a movie studio and amusement park built in 1939. For one weekend only, Old Tucson Studios is transmogrifying into the town of Rusted Gear.
When: May 27-30, 2011
Where: Dearborn, Michigan
The premier steampunk event of the Midwest. World Steam Expo is a four day convention that takes place Memorial Day Weekend.