SDCC Call for Nominations: 2011 Will Eisner Spirit of Comics Retailer Award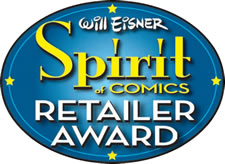 Each year the San Diego Comic Con (my little local comic convention) holds the prestigious Eisner Awards to recognize industry professionals and works (named after comics legend Will Eisner). Alongside this they also give an everyone-chosen Spirit of Comics Retailer Award.
The Will Eisner Spirit of Comics Retailer Award is given to an individual retailer who has done an outstanding job of supporting the comics art medium, both in the community and within the industry in general. The Comic-Con introduced this award in 1996 and has only given it out five times since then; 1996, 1999, 2008, 2009, and 2010.
Who Can Nominate Who?
ANYONE can place a name for nomination for the Spirit of Comics Retailer Awards, be they fan, pro, or retailer. Any retailer that's been
in business for at least two years is eligible for nomination for this award (providing they haven't won it before).
The finalists are chosen from among the nominees by a panel of industry judges. Winners are announced as part of the Will Eisner Comic Industry Awards at Comic-Con on Friday, July 22, 2011.
Deadline for nominations: April 18, 2011.
Criteria for Judging
Support of a wide variety of innovative material. Providing opportunities for creators' material to reach buyers; stocking a diverse
inventory.
Knowledge. Working to stay informed on retailing as well as on the comics field.
Community activity. Promoting comics to the community; maintaining relationships with schools and libraries; keeping active in social, business, and arts community organizations.
Quality of store image. Innovative display approaches; using store design creatively.
Adherence to standard ethical business practices.
A tall order, yes?
Nominate Here
If you comic lovers out there in fandom know a retailer who fits the bill go ahead and nominate them. Form is here.