A Review of MAGFest 2011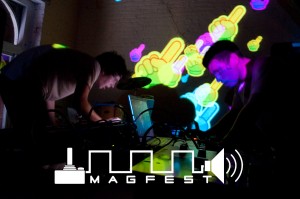 Excitement and anticipation for my first MAGFest has been building ever since I experienced the chiptunes concert put on by their organizers at PAX East 2010. The idea of a weekend-long videogame-centric orgy of music and entertainment seemed like such a fantastic idea in my head.
Sadly, in reality, it didn't match my own self-conjured hype. Perhaps this places the blame of my disappointment in MAGFest 2011 on my own shoulders, but I'll let you be the judge after I present my likes and dislikes.
Right off the bat, I was a little disappointed that some of the musical acts I had wanted to see performed Thursday night, when I had arrived Friday evening. Most of my convention experiences dictate that the best programming happens Friday evening and all day Saturday to account for working adults who can't take vacation time to show up mid-week.
This brings up another problem I experienced. The schedule was well laid-out, and easy to read with large columns indicating which event room every slot pertained to. My beef with the schedule centered around the music space. There was a large 5 hour block of time labeled "Chiptunes" with no information about who and when. While I was trying to cover as much ground as possible and not sit in the chiptunes area for five hours, I missed my favorite artist (Zen Albatross! <3) due to lack of information. Additionally, what do I do with a block of time labeled "Saturday Concerts?" I know that it is Saturday, and assumed there would concerts of some type…. but who? And when exactly?
If this information was posted somewhere, I missed it.
With that initial negativity out of the way, let me say that the talent at MAGFest was phenomenal. Plenty of big names in music were in attendance, including (but certainly not limited to) Protomen and The Megas.
Another highlight included the classic arcade cabinets that were set up, which provided some much needed retro gaming. Kudos to everybody that contributed to providing those units for everybody to play on.
That said, every fourth unit was non-functional, which wouldn't have been nearly as frustrating if they had at least been marked as such. Unfortunately, I had to try each one and see, hoping not to look silly hitting buttons on a broken machine. My friend and I enjoyed several excellent rounds of Smash TV and Killer Instinct II, but were cheated out of any Rampage by a faulty arcade machine. Ce la vie.
In addition to being plagued with broken equipment, the area they crammed the arcade cabinets into was small. The walkways were abysmally narrow, especially for the level of attendance. This problem of space wasn't limited to the classic arcades, though. The entire convention has clearly outgrown the host hotel. The location is hardly ideal to begin with, seeing as the overflow hotel is not within close walking distance, and the shuttle being run had no actual schedule or predictability. The gaming room, too, suffered from being overloaded by the number of convention-goers.
I know that it isn't fair to compare a smaller organization to something like PAX, but I felt like their gaming rooms could have easily benefited from twice the number of consoles and still not have wasted any on empty chairs or televisions.
I can't say that I'd be interested in coming back in the future without assurances from the convention managers that a new venue and expansion plans were a priority. MAGFest is a great concept that could benefit from a little more organization and logistical planning.