Studio Foglio at Gaslight Gathering!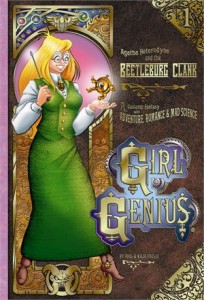 That's right, steampunk comic lovers, Phil and Kaja Foglio will have a table in the merchants room at Gaslight Gathering (Southern California's new steampunk convention). They're not scheduled to be on any panels currently, but I suspect programing organizer Jim Hay will have a run at convincing them to since they'll be down here anyway.
For those of you unfamiliar with the names… Phil and Kaja are Studio Foglio and the creative team behind Girl Genius, which vies with League of Extraordinary Gentlemen for title of Most Popular Steampunk Comic. It was also one of the items on our Top 10 Steampunk Holiday Gift Ideas list.
Quick fun fact: the Girl Genius series started as novels but where comic-ized instead and are now novels again. (hey, I said it was quick)
The name of Phil Foglio will also be familiar to boardgamers for his art in various Steve Jackson Games titles, like S.P.A.N.C: Space Pirate Amazon Ninja Catgirls (great game, by the way ). Fans of Robert Asprin's Myth Adventures series will also recognize Phil as the artist for the sillier covers for those novels.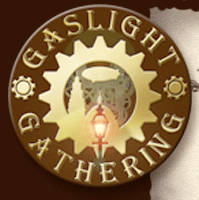 Gaslight Gathering will be held May 6-8, 2011, at the Town and Country Hotel in San Diego. The event is Southern California's first steampunk and Victoriana convention. Registration is currently open.