Press Release: 2nd Annual Gam3rCon July 19-24 in Downtwon San Diego!
17 February 2011
by Staff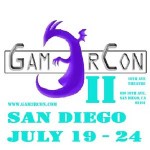 Gam3rCon is a new event adding to the landscape of activities available for the participants of the International Comic Con coming to San Diego July 2011. Gam3rCon will celebrate the tradition of interactive entertainment from the earliest traditions of dice and cards, to the latest innovations in digital interactive experiences. With Exhibitions from many major game developers, live stage productions, and other game related tournaments, after parties and special events, Gam3rCon is the only "open to the Public" event of its kind in Southern California.
GAM3RCON returns for 2011 expanding upon the foundation paved by the small, yet successful, inaugural event in 2010. Gam3rCon is a new free event in San Diego running concurrent with the international Comic Book Convention focusing on the celebration of geek culture with focus on interactive entertainment and gaming. With the participation of enthusiasts and professionals alike, we will explore the future of the industry and present new developments in a more focused environment, not found at the international Comic Con.
Unlike the Electronic Entertainment Exposition (E3) in Los Angeles, Gam3rCon aspires to be a public event offering an opportunity for local leaders in the industry to directly engage fans, and serve as a forum for debate and education. University and technical programs that focus on game development, will be invited to participate alongside professional game developers from throughout the country, in particular, 14 major studios that are based locally right here in San Diego.
With the event housed at the 10th Avenue theatre in Downtown San Diego, Gam3rCon will feature:
114 Seat theatre featuring two stage productions GAM3RS: THE PLAY and DR HORRIBLE'S SING ALONG BLOG- LIVE, produced by Chinese Pirate Productions
An Professional's Room with up to 15 Exhibitor booths
2 – Demo rooms for games and consumer electronics.
Game Tournament lounge with up to 4 simultaneous gaming campaigns running around the clock.
Food Service- Food and Beverages
Rooftop special events overlooking the skyline of San Diego including Silk Road Productions' annual "School Girls and Samurai's" after party event.
In preparation for this event, a volunteer recruitment mixer for the Gam3rCon Planning Committee will be held at the 10th Avenue theatre on Wednesday February 16th, at 7:00 pm. Attendees are encouraged to RSVP at www.gam3rsthewebsite.com/Gam3rCon_VolunteerRSVP.html
GAM3RS: the Play premiered to critical praise at the New York Fringe Festival, before coming to San Diego's ION Theatre last April, and the Tenth Avenue Theatre last July. A one man show about players of MMORPGs (Massive Multi Player Online Role Playing Games), Gam3rs:The Play will share the limelight as the centerpiece of GAM3RCON, running in rep with Dr. Horrible's Sing Along Blog -LIVE-.
by Brian Bielawski & Walter G.Meyer
It's the most important day of "computer-gaming-geek" Steve Smolinski's life. He's about to save humanity from destruction at the hands of bloodthirsty elves… which would be a lot easier if he didn't have to do it from his cubicle at work. In a tour-de-force one-man show, GAM3RS captures the chaos that ensues when one's virtual world and real life collide.