Outdoor Steampunk Convention and Gathering Coming to Missouri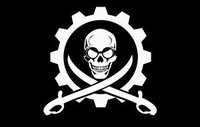 I recently received this excellent invitation to an outdoor Steampunk Festival that looked like so much fun, I thought I would share it with you. You can learn more at http://steampunkfest.com. Admission for each day is $7 at the gate.
Steampunk Festival – Airship Pirates at Boster Castle
Location: Kingdom City, Mo
Dates: June 10 – 12, 2011
Master Ramon,

As you and your crew travel across the thread of the world and the seven seas of time, I would be honored to extend my airstrip to you on this most glorious day as we celebrate the grand steampunk adventure, by holding a great festival of drinking, dancing, fire breathing, battling, brawling, paintball warring and generally carrying on in hap hazard and fool hardy ways!!

We've stolen from 1892, a Moulin Rouge, Le Folies Bergère style burlesque dance troupe! …to fog up your goggles as you drink deeply at the Player Piano Saloon! Be prepared for battle as well as I hear a conniving evil doctor amasses his army of nerf wielding gunners! It's sure to be epic!

We'll be awarding the crowd's favored costumes with over $200 in booty and forever immortalize there essence in award winning photographic art.

Mad scientists, tinkers, and engineers are all welcome to bring their creations and compete for the coveted grand prize of the 2011 Noballs Steampunk Scientist's Award!

Tie off your airship alongside mine and camp next door at the full service campground of Hanson Hills, then join us the next two days for the Central Missouri Pirate Festival at Boster Castle.

NOTE: We are looking for actual airships to join us as well. If you know of any that haven't been shot down, we would be delighted to speak with them and arrange port!