Loscon Has Genuine Astronaut as Guest of Honor!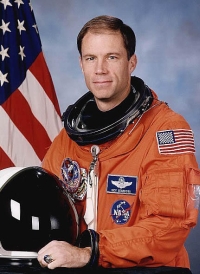 Okay, so I'm a geek. You can't really pretend to be surprised by that. I love speculative fiction, and literary sci-fi/fantasy cons are near and dear to my nerdy heart. But what I really dig is non-fictional science. So you can imagine my excitement and delight when I found out that Loscon will feature actual astronaut Colonel Rick Searfoss, USAF Retired as their Science Guest of Honor for the 2011 event.
*SQUEEEEE*
Loscon is THE Los Angeles science fiction/fantasy convention and is held Thanksgiving Weekend each year by the Los Angeles Science Fantasy Society. Loscon 38, the 2011 event, will be November 25-27. This year's theme is "Where's My Flying Car?"
Science GoH Rick Searfoss became a NASA astronaut in July 1991 and has logged 939 hours in space. The final frontier. (oh, come on, you were thinking it too)
Science fiction and scientific reality – two great flavors together at last. (or, some more)
This speculative fiction loving space geek has SO got to get to Loscon this year!