Pilot Mechs at CyPhaCon 2011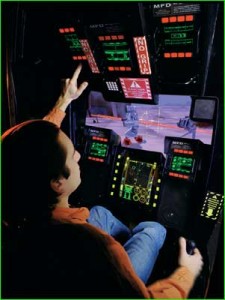 Always wanted to know what it would be like to pilot a mighty mecha? You can get a little taste at CyPhaCon this April thanks to MechCorps.
The Houston, Texas, based company provides BattleTech Cockpit Simulators. You can sit in these and get the virtual experience of piloting a three-story tall, 75-ton, walking robot tank of doom. MechCorps will be bringing 4 of their Tesla Battle Pods to CyPhaCon 2011, where you'll be able to play BattleTech against both AI opponents and your fellow con-goers.
Be sure to read the MechaCorps Piloting Basics Training Manual beforehand.
CyPhaCon is Southwest Louisiana's premier anime and gaming convention. Their 2011 event is scheduled for April 16-17 and will be held at the Lake Charles Civic Center in, oddly enough, Lake Charles (Louisiana). It looks like tickets are only sold on-site and range in price from $5 to $15.