Steampunk Events for May 2011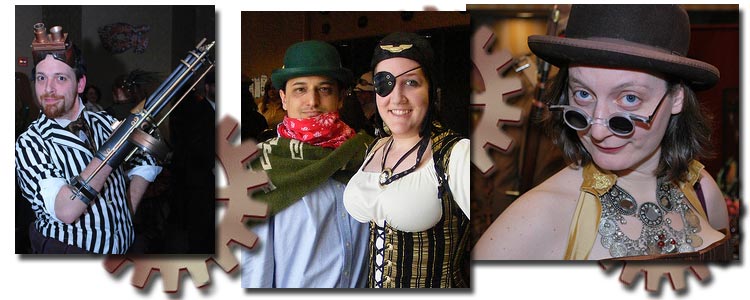 May is a big month for steampunk flavored events. There are a few major steampunk conventions, as well as a handful of others. Here's a quick look at next month's steamy goings on:
When: April 29-May 1, 2011
Where: Toronto, Canada
Okay, so just the LAST DAY of the event is in May, but the world won't be devoured by mechasteam caterpillars if I include the entire event on this list. Will it? It will? Quickly, to the time machine!
This is Canada's biggest steampunk convention, put on by Steampunk Canada. Held at the Holiday Inn Hotel and Suites Markham-Toronto.
When: May 6-8, 2011
Where: San Diego, California
Gaslight Gathering is Southern California's first convention dedicated entirely to steampunk (and the second ever in California). Gaslight will be held at the Town and Country Hotel in San Diego. Lots of great events planned for this con, including a Mother's Day Tea & Fashion Show, Time Traveler's Masked Ball, and a massive concert.
When: May 6-8, 2011
Where: Waltham, Massachusetts
Steampunk convention held by the Charles River Museum of Industry & Innovation and self-described as, "…a sort of Ringling Brothers meets the Industrial Revolution event that encompasses the entire downtown." My notes show that this one is new for 2011, but didn't get announced soon enough for inclusion on our New Steampunk Conventions For 2011 post.
When: May 21-22, 2011
Where: San Mateo, California
Maker Faire is the world's largest DIY festival. It has a strong steampunk spirit and it looms large on the calendar for the builders in the Bay Area's steampunk communities. So I include it here, even though it's neither a convention nor strictly steampunk.
When: May 20-22, 2011
Where: Somerset, New Jersey
Steampunk World's Fair is a three-day expedition into yesterday's future. The 2011 venue is the Crowne Plaza Hotel in Somerset, New Jersey.
When: May 27-29, 2011
Where: Madison, Wisconsin
This is a tri-fandom convention divided among steampunk, anime, and furry. An interesting combination, but it makes an almost disturbing kind of sense the more you cruise DeviantArt.
When: May 27-30, 2011
Where: Dearborn, Michigan
The premier steampunk event of the Midwest. World Steam Expo is a four day convention that takes place Memorial Day Weekend.