MonsterBash June '11 Celebrates Vampire Horror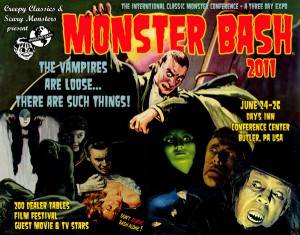 MonsterBash is a family-friendly monster flick convention celebrating the creepy films from the silent movie era to the 1950s.
The con is presented by Scary Monsters Magazine and Creepy Classics Video & DVD, and they tend to have two or so of these events each year. June 2011′s MonsterBash is this weekend, the 24-26.
And the theme for the June '11 MonsterBash is a refreshing one for anyone sick of the sparkling romantic bloodsucker; vampires as monsters. "The Vampires are Loose…There are Such Things" Oh ye-ah!
This international classic monster celebration has a host of cool Guests lined up for this month's event; Chiller Theatre's "Chilly Billy" Cardille, Robert Dix, Ed Nelson, Dawn Wells, Norma Eberhardt, John Stanley, Richard Gordon, The Patient Creatures, Penny Dreadful's Shilling Shockers, and more.
In addition to the Guests, MonsterBash boasts a film festival and 200 Dealer tables.
The June 2011 MonsterBash will be held 24-26 at the Days Inn Conference Center in Butler, Pennsilvania. Admission is $25-$40, though kids under 12 get in free.