Warner Bros. Announces Comic-Con 2011 Schedule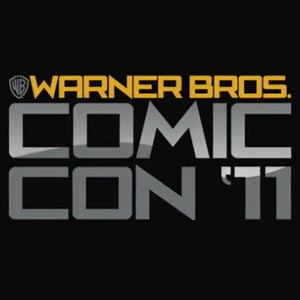 Warner Brothers has announced their schedule of events for the 2011 San Diego Comic-Con. They even have a Comic Con specific website dedicated to showcasing their activities this Con.
There's been talk this year about the big studios starting to pull out of ComicCon, suggesting that their enchantment with the mega pop culture event is fading in the face of an unequal return in the box offices and ratings for their event investment. For instance, Marvel has no Hall H events scheduled for the 2011 fan convention – which translates to no Avengers movie preview at Con this year.
That in mind, there was concern among fans about whether media giant Warner Bros. would be coming to Comic Con in '11 or if fan favorites like Big Bang Theory would be left out of this year's event. You all can relax now, WB has officially announced their presence at the 2011 convention.
So, What All Will Warner be Bringing to San Diego for 2011′s Con?
Here's a quick distillation of the WB's Comic-Con 2011 Schedule Is Announced! press release from June 21, 2011.
Their planned 3,000 square-foot booth of doom:
And it wouldn't be Comic-Con without a visit to the Warner Bros. booth. The Studio will once again have a can't-miss, nearly 3,000-square-foot destination on the convention floor, at space #4545. Anchored by the iconic Warner Bros. Water Tower, the booth is a must-visit location for autograph signings, multiple interactive kiosks for fans to play video games from Warner Bros. Interactive Entertainment, and much, much more. Stay tuned to @TheWBdotcom on Twitter or www.thewb.com/comiccon in the coming weeks for more details about activities at the booth.
Sounds like the WB will be doing their part in 2011 to continue the media giant Comic Con tradition of creating a massive Exhibit Hall traffic clogging feature. Yay?
TV Series Panels
There will be panels featuring Warner Bros. fan favorites like The Big Bang Theory, Chuck, and Vampire Diaries, plus previews of their new properties like Person of Interest and Alcatraz.
Friday, July 22
MAD: 10:00–11:00am in Room 25ABC
The Big Bang Theory: 12:30–1:30pm in Ballroom 20
Children's Hospital: 1:30–2:20pm in the Indigo Ballroom at the Hilton San Diego Bayfront hotel
Green Lantern: The Animated Series: 2:00–3:00pm in Room 6BCF
ThunderCats: 3:30–4:30pm in Room 6A
Saturday, July 23
Chuck: 10:00–10:45am in Ballroom 20
The Vampire Diaries: 3:30–4:15pm in Ballroom 20
Fringe: 4:15–5:00pm in Ballroom 20
Alcatraz: 5:00–6:00pm in Ballroom 20
The Secret Circle: 5:10–6:00pm in Room 6BCF
Nikita: 6:00–6:45pm in Room 6BCF
Person of Interest: 6:45–7:30pm in Room 6BCF
Sunday, July 24
Young Justice: 10:00–11:00am in Room 7AB
Supernatural: 11:15am–12:15pm, Hall H
Scooby-Doo! Mystery Incorporated: 1:00–2:00pm in Room 6A
The Looney Tunes Show: 2:15–3:15pm in Room 6A
Sneak Peak Screenings of New Shows
Warner Brothers will be bringing four new TV shows to Comic-Con 2011. They'll be giving Con attendees a special sneak peak preview at the pilots for Supernatural: The Anime Series, Alcatraz, The Secret Circle, and Person of Interest at their "SPECIAL SNEAK PEEK PILOT SCREENINGS" Wednesday night, July 20, from 6:00-9:00pm in Ballroom 20.