Super Hero Party at The Waterfront Bar & Grill for Comic-Con Week, July 23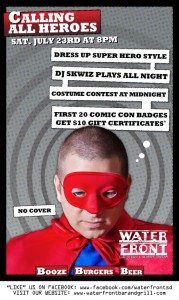 In San Diego during Comic-Con weekend and looking for something festive to do outside the convention?
The Waterfront Bar & Grill, San Diego's oldest tavern AND nominee for "Best Dive Bar in SD" for 2011, is hosting their first ever annual Super Hero Party Saturday night, July 23rd, in celebration. If you're in the 21 and over age bracket and looking for a place to hang out and party while cosplayed out superhero style, than head on over to The Waterfront.
It's a great event whether you're a local comic fan not attending Con this year or if you're a SDCC attendee all the way from Norway.
And if you are a Comic-Con goer, though, The Waterfront's Super Hero Party has an exclusive perk for you in honor of the city's world famous event; the first 20 people with Comic-Con badges will get a $10 gift card for future purchases at the bar and grill. No idea how 'future' they have to be though. Do they mean later that night during the party? Sometime in the next few days? Does it require a little Wellsian giggery pokery to use the gift card? Or does it only work for Major Faultline?.
Anyway…
The Waterfront's Super Hero Party, first annual, starts at 8:00pm on July 23. There will be a costume contest at midnight and music will be provided all night by DJ SKWIZ. No cover charge.
They've got a Facebook Event set up, as well.