Voltaire Headlining Anniversary Bash for Dorian's Parlor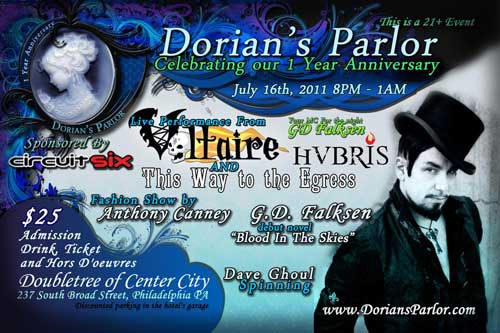 This Saturday, July 16, is the one year anniversary of steampunk fest Dorian's Parlor. For the past year the Philadelphia event has offered fashion, comedy, awesome DJs, readings, food, music, drink, vendors, circus acts, and so many more of the delights that thrill the neo-Victorian soul.
To mark their first anniversary Dorian's Parlor is doing it up big, pulling out all the stops to be be radder than ever. The birthday bash will host the official debut of G.D. Falksen's newest novel Blood In The Skies. Plus a performance by This Way to the Egress. And to top off THAT Dorian's has invited none other than Voltaire to headline the event.
The popular dark-cabaret musician has become an icon of the filk fashion, goth-geek culture. One Commenter on YouTube describes Voltaire's music as being in the "…gypsy gothic indie pop somewhat steam punk genre…" And hey, being hard to pin down is always a good thing.
I've always enjoyed what I've heard of his music and can remember when all my geeky friends with a lazily sinister side where passing around his hit "When You're Evil".
In addition to his music, Voltaire also has a hand in vinyl toy design, animation, and books. 'Cuse, you know, it's important to diversify.
It's quite a feather in Dorian Parlor's cap to engage Volatire to headline their one-year anniversary event on the 16th. In addition to the already mentioned acts, the party also boasts performances by HVBRIS, and DJ Dave Ghoul. There will also be the debut of Steampunk Hello Kitty t-shirts, a fashion show featuring The House of Carney, door prizes, and of course a proper birthday celebration.
The Dorian's Parlor anniversary bash is this weekend, July 16, from 8:00pm to 1:00am. The venue is The Doubletree Hotel in Philadelphia. Tickets are currently on sale, though there's no difference in price between buying them online or at the door; both ways they're $25. 25 of the best gets you entry, hors d'oeuvres, and 1 drink ticket. The 'drink' part is decidedly alcoholic, making this a strict 21-and-over event so be sure to have that legal photo ID with you.
If you're new to the Parlor, check out the great photos of their January event earlier this year, taken by our own Kelly Rowles, in the CFB Flickr album.