Get Your Game On at Gam3rcon July 19-24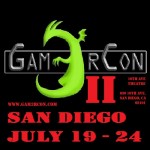 Next week is Gam3rCoN, a brand new gaming convention in San Diego celebrating everything from dice games to the latest video glories – scheduled opposite of Comic-Con on July 19-24, from noon to midnight.
Now, I can hear some of you getting ready to go, "Gam3rCon isn't new!!!" While it's true that 2010 was the first time A Gam3rCon was held, that tiny convention was low on attendance, narrow in scope, website-less, and minus it's current level of organization and goals. In short, the Gam3rCon rising from the brains of game-loving San Diegans for 2011 is a totally different creature from the event of the same name held last year. And, therefore, "new". *thhbpt*
So, why is Gam3rCon scheduled the exact same week of, and during the days of, Comic-Con? In the SAME town as that mega fan event? A scant handful of streets away from the Convention center?
In the words of Gam3rCon organizer Andy Lowe:
In my opinion, Gam3rCon, represents a step in a natural progression of the future of San Diego's Comic Con international.

Comic Con has been experiencing a lot of growing pains; angst over the capacity issues of the convention center, the annual questions about whether Comic Con will leave San Diego, and now all the fresh wounds of the recent registration problems. There are many attendees who are frustrated that Hollywood has monopolized so much of comic con, while the actual comics, sci fi, Role playing and Video gaming industries have been pushed to the periphery.

So the future of comic Con in my mind is dependent on many events like ours that offer relief of traffic congestion by offering a nearby off site attraction, and focused attention on genres that are being unintentionally shunned by comic con's ever expanding focus on film and television… Really I find the prospects for the future exciting, that comic con is no longer "IN" San Diego… so much as Comic Con "IS" San Diego.
So, where is Gam3rCon and what can you expect to do there?
Gam3rCON will be held in downtown San Diego at the 10th Avenue Theatre (930 10th Avenue), just two blocks from the City College Trolley stop at Broadway and Park Blvd.
There is a variety of gaming programming scheduled for the 2011 event. Besides panels there's the free play sessions and live gaming tournaments hosted by The Box Arena and 760 LANS. Than there's The Retrocade, where attendees can wallow in old school video game nostalgia while playing NES and its ilk.
There's also a fully loaded Gaming Lounge, which will be dedicated to traditional gaming of all types; tabletop, role playing, and dice games with an open invitation to attendees to bring their own games and host impromptu gaming sessions. Which, frankly, is one of the things I really miss about old-school Comic-Con. These days there are two sad little game rooms in the Convention Center, one dedicated to commercial trading card game tournaments and the other more just used as a meeting room by gamers who remember the glory days of gaming at SDCC.
Other Gam3rCon features are a performance of Dr. Horrible's Sing Along Blog – Live! and Gam3rs: The Play. Special Rooftop events like a performance by the Hell on Heels Burlesque Revue and others.