Dr. Horrible – Live! and Gam3rs, Made of Awesome
Sunday I went to the opening night of Dr. Horrible's Sing Along Blog – Live! and Gam3rs: The Play. The venue was cozy and personal, Gam3rs was fun, and the stage adaption of Whedon's Dr. Horrible was made of awesome.
The shows are happening in San Diego July 16-30 at the 10th Avenue Theater, presented by Gam3rCon. If you are in town or nearby, whether for Comic-Con or not, you should totally make time to go.
Venue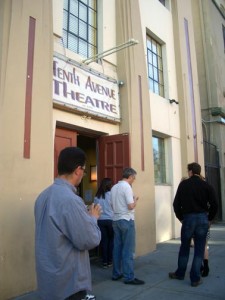 The 10th Avenue Theater is a small local theater in an old art deco building of the sort you can just imagine what it was like in it's hay day. The theater itself is a reverse of the traditional arraignment; instead of the audience sitting on the floor and looking up at a stage, at 10th Avenue the stage is the floor and the audience sits in a row of tiers 'above' it. Makes for a very intimate and personal feel.
The seats are just padded, officey chairs on home-made risers, but I found them comfy. The seating tiers have the downside of vibrating annoyingly as people go up and down them. That seems to be the standard down-side to the venue cited in reviews on Yelp!, but it's not an issue once the show starts and people stop stomping around the seating area.
And, of course, being Press I had an awesome seat three rows up, on the aisle. I had Dr. Horrible laid out practically at my feet, menaced by Captain Hammer. But I get ahead of myself.
Gamers: The Play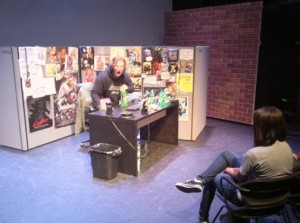 Gam3rs was a fun one-man show about a guy running a MMORPG raid to end all raids while at work at his tech support job.
The acting was good, as were the geek allusions. The sound effects and lighting were simple and used to excellent effect. And the play had a nice twist at the end that I didn't see coming but my Taller Half did. I thought there was going to be one of course, but when it didn't turn out to be what I assumed it would be I stopped expecting one. So, very nicely done.
The set for Gam3rs is pretty much one big meta nod to geekdom; a few cubicle walls smothered with posters and photos, and a desk covered with action figures and Mountain Dew bottles. It was perhaps a little over decorated, but hey, it's a set.
What I really liked about the geek decor in the set for Gam3rs were the local nods to San Diego. For instance, the play is running the week of Comic-Con AND is on stage right before Dr. Horrible – Live. And hanging on one simulated cube farm wall is the cardboard Dr. Horrible goggles mask and lyrics brochure from the Dr. Horrible's Sing Along Blog showing presented at last year's SDCC by the California Brown Coats. (That was a really fun panel, by the by).
My favorite local nod in the set for Gam3rs, though, was the badge to this year's CondorCon (San Diego's largest SFF fan Convention) hanging on one of the 'cube' walls. Bravo.
Dr. Horrible's Sing Along Blog – Live!
The real star of the evening was the stage adaptation of Joss Whedon's now classic web film, Dr. Horrible's Sing Along Blog.
You're shocked, aren't you.
But it really was, truly, made of Grade-A Awesomeness. As soon as it was over my first and immediate thought was, "I want to see that again." And I'm one of those people who rolled their eyes every time yet another friend dragged them over to watch Dr. Horrible online.
Furthermore, on the walk back to our car my Taller Half, who was my Press +1, asked me how much tickets cost. That's right, the man had just gotten in free to see Live and wanted to pay to see it all over again.
We absolutely LOVED it.
Dr. Horrible's Sing Along Blog – Live! is a clever, funny, professional and well produced show. With live music, great singing, surprises, and truly genius solutions to presenting the various film effects in a stage production.
Like shadow play and puppetry. And projections. And the "Follow my bouncing fist" declaration from Captain Hammer inviting the audience to sing along to "Everybody's A Hero". And -
I want to give more details but it'll totally ruin the fun of the surprises if I do. Seriously, even if you've seen Dr. Horrible on your PC a gazillion times, if I over-burble about the live stage show it'd totally be spoilersville. (see photos on the CFB Flickr album)
Go see it!
The only low point, and not much of one at that, was that the Captain Hammer's actor played him a little too shallow and a little too smarmy. But that's more a function of the character and a fault in the choreography that could be resolved easily by swapping the smarm for charm in a few places.
Overall, standing ovation in director and adapter Andy Lowe's general direction.
When, Where, and For How Many Monkeys
Dr. Horrible's Sing Along Blog – Live! and Gam3rs: The Play are showing from July 16 to 30. You can see one or the other OR both. Tickets for each show, individually, are $30 online or $35 at the door. See both for $40. If you've got the budget room I'd go for the double feature option; both shows are fast paced and there's a 15 minute intermission to stretch your butt.
Dr. Horrible Live
Stars Nathan Turner (Billy/Dr. Horrible), Jane Lui (Penny), and Michael Minto (Captain Hammer). The show is produced by Chinese Pirate Productions and presented by Gam3rCon at their 10th Avenue Theater location.
Showtimes for Dr. Horrible Live
Tuesday, 7/19/2011 – 6pm
Wednesday, 7/20/2011- 8pm
Thursday, 7/21/2011- 6pm and 10pm
Friday, 7/22/2011- 4pm and 8pm
Saturday, 7/23/2011- 4pm and 6pm
Sunday, 7/24/2011 – 4pm and 8pm
Friday, 7/29/2011- 8pm
Saturday, 7/30/2011- 2pm and 8pm
Gam3rs: The Play
Stars Brian Bielawski, who is also the show's co-creator and co-producer. The other half of the co is Walter G. Meyer. As an aside, Brian's the voice of various characters on X-Box 360′s Saint's Row II and Saint's Row The Third. The tagline for Gam3rs is "1 nerd, 12 angry customers, 10,000 bloodthirsty elves." Presented by Gam3rCon at their 10th Avenue Theater location.
Showtimes for Gam3rs
Tuesday, 7/19/2011 – 8pm
Wednesday, 7/20/2011- 6pm
Thursday, 7/21/2011- 8pm
Friday, 7/22/2011- 6pm and 10pm
Saturday, 7/23/2011- 2pm and 8pm
Sunday, 7/24/2011 – 6pm