Chriss' Comic-Con Haul
Well, Comic-Con is two weeks in the past now. And as our post-con afterglow fades we start to dream of next year's event. To close out CFB's coverage of SDCC 2011 I thought I'd share my haul from the event.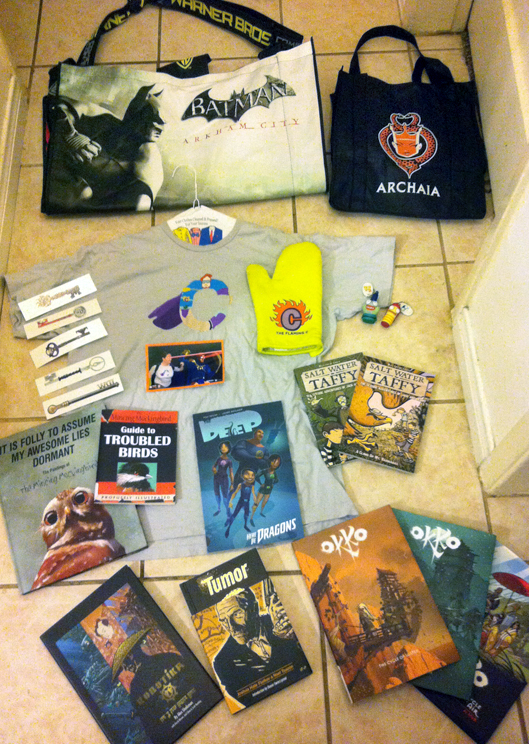 From the Top Down…
Here's a quick run down of my Con goodies in the photo above, starting from the top left and working our way down:
The SDCC Swag Bags

This year Comic-Con paired with Warner Brothers to provide the swag bags attendees were handed when they picked up their badges at Registration. The things were HUGE. Seriously. I'm 5 feet tall and the bag is half as big as me. My sister kept herself warm in the cool Rooms by wearing her swag bag snuggy-style. They had some cool features, though; bulit-in poster compartment, a way to convert them from shoulder bags to backpacks. I rigged my Batman: Arkham City bag (Score!) into a half-size bag.

Archaia Press Bag

One of my favorite comics small press groups, Archaia handed out great book-carrying bags with each purchase.

Locke and Key Temporary Tattoos

At the IDW booth I was able to score a full collection of their freebie temporary tatoos of the keys from their graphic novel hit.

Museum of the Flaming C Swag

The COCOMoCA in the Gaslamp had the BEST freebies in town. I scored a Flaminc C t-shirt, commemorative oven mitt, and souvenire photo of myself shooting lasers from my eyes alongside Conan O'Brien's superhero alter ego.

Fish Hooks Keychains

The panel for Disney's Fish Hooks cartoon gave out squishy foam character keychains as people left the panel room. I've got my work key on one of them already.

Mincing Mockingbird Books

My favorite part of Comic-Con is the Small Press area. This year I discovered Mincing Mockingbird, which pairs lovely paintings of birds with odd commentary. I got both their books;Guide to Troubled Birds and It Is Folly To Assume My Awesome Lies Dormant.

The Deep

Another small press find, this time from Gestalt. The Deep is an all ages graphic novel featuring family deep sea adventuring in a sub called The Arronax. By Tom Taylor with art by Jame Brouwer.

Salt Water Taffy

I also picked up two volumes in Oni Press' Salt Water Taffy series; A Climb Up Mt. Barnabas and The Truth About Dr. True.

Archaia Press Sale

On Sunday Archaia had a massive sale. I got 1)Robotika v2: For a Few Rubles More, 2)Tumor, 3)Okko volumes 1-3.
What did you all score at Comic-Con this year?