Con of Wrath – Were You There in '82?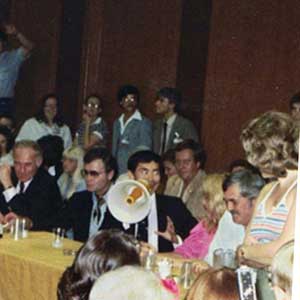 Earth Date: 1982 – June – shortly after the release of The Wrath of Khan.
Place: Houston, Texas – Houston Ultimate Fantasy Convention.
It was supposed to be a Trekkie dream come true, the first ever all-cast Star Trek convention. It became a misery of staff panic, attendees forced out of hotel rooms, un-paid space fees, dealers passing the hat to keep the doors open, and general meltdown. Ultimate Fantasy is known to those who survived as The Con of Wrath.
Where you there in 1982? Do you remember? Larry Nemecek hopes so.
One of the few panels I got to this Comic-Con was "Star Trek: Between the Cracks" with the Universe's leading Trek authority, Larry Nemecek. Towards the end of the panel he spoke about Ultimate Fantasy, which he had been eagerly anticipating as a young Trekkie.
It's a car wreck of a story about a mysterious "sellout" status given would-be ticket buyers … con staff who go into shock when the truth is revealed … fans wrongly kicked out of their hotel rooms … dealers who "pass the hat" to keep the doors open … the incredible burning planet … and the unsuspecting Hollywood folk who walk into all this and face a PR nightmare.

And it's also a personal story: my first coming-of-age con road trip—and I'm thrilled, after all this time, to preserve it for the ages in my first film project, "THE CON OF WRATH." (Best of all, the title is a gimme: that's really what fans were already calling it by weekend's end … just a couple weeks after the smash debut of Star Trek II: The Wrath of Khan.)
Being a reporter type Nemecek has found himself with the need to document this convention disaster before it can fade entirely from the fan consciousness. So, he's making a documentary. Interviewing the celebs, staff, attendees, and anyone connected who he can get his hands on. That's where you come in. If you were there, if you have a story, memorabilia, photographs, etc. Larry needs you.
So far Nemecek has interviewed both Star Trek producer Harve Bennett and actor Walter "Chekov" Koenig. You can view a project promo with portions of those interviews on the Con of Wrath project website.
And even if you weren't there in '82 you can still help this project come alive. Larry Nemecek is welcoming sponsorship donations as low as $10 or $25, with a 'thank you' swag bag for each of the eight levels of sponsorship. Plus screen credit for ALL donors.
Times are tough, and for some us even $10 dips too low into our budget. But you can still help the project by spreading the word. Or, hey, maybe even your local fan group can put some change in the kitty to help sponsor the Con of Wrath project.
If you survived The Con of Wrath, or if you just want to sponsor the documentary, fandom needs you to help Larry Nemecek Make It So.