Gallifrey One Announces Open Call for Panel Ideas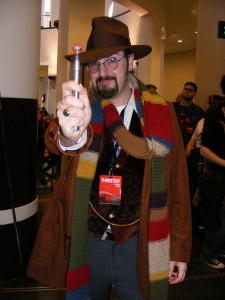 Gallifrey One, the annual Doctor Who convention for North America, has announced an open call for ideas for their 2012 event.
The Los Angelas Who celebration, which is held in February, doesn't usually start assembling it's programming this early. But they started working on their 2012 event before this year's con finished by collecting attendee suggestions. They've also taken handy topic ideas from sister events. And now they're extending an invitation to fans for further ideas.
Of course, since the Gallifrey One organizers already started gathering ideas before putting out a call for suggestions, they have a large list of panels already put together. So it'll be hard for any further suggestions to find footholds or un-covered ground. But they'd still like to hear ideas and discussion so that they can make even further improvements to the programming desired by North America's Doctor Who fans.
So, what topics do they want panel suggestions on? Doctor Who, Torchwood, The Sarah Jane Adventures, television SF, SF/fantasy film, and other associated themes. If you've got something to add or a burning suggestion to make for programming and events for the 2012 Gallifrey One convention than Contact them.
And, if you'd like to actually be ON panels check the event's website around October and November for their call for panelists.