Gaslight Gathering Announces 2012 Dates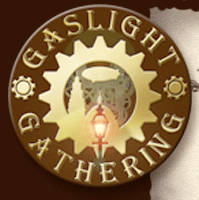 Gaslight Gathering is one of the several new steampunk conventions that opened their doors for business this year. The San Diego con is Southern California's first fan event dedicated to just retro futurism. I had a blast at their May event, particularly the Bartitsu demo/workshop.
The first GG event showed some areas for improvement, of course, but the activity on their Yahoo group shows that Gaslight's organizers took fan feedback to heart and are working on making the Gathering even better for 2012. So, if you don't have any plans yet for the May 11-13 weekend next year than start penciling in the 2012 Gaslight Gathering.
For their inaugural year, this new steampunk convention was themed as the maiden voyage of the zepplin ZRA Gaslight. They're riffing on that theme for 2012, calling it Gaslight II: The Expedition.
Events Announced So Far For the 2012 Gaslight Gathering
Saturday Steampunk Safari High Tea ($40)
Saturday Evening Dinner & Dr. Charly Tinn's Travelling Medicine Show ($60)
Sunday Mother's Day Victorian Tea ($25)

I'm looking forward to the 2012 Gaslight Gathering already, and hoping that they can lure Thomas Badillo back down for some more Bartitsu.

Gaslight Gathering 2012 is scheduled for May 11-13 and will be held at the Town & Country Hotel in San Diego, California. Registration is currently open and tickets range from $15 (Sunday only) to $395 (Royal Explorer's Package).