Ring in 2012 with Steampunk Festivities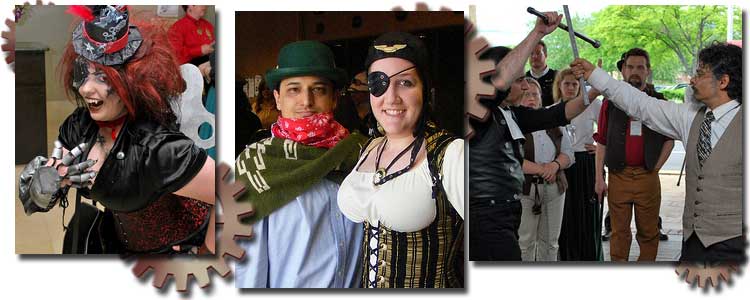 There's a lot of love for the steampunk genre here at The Convention Fans Blog. A regard that you, our darling convention loving audience, must share as well to judge by the amount of steampunk-related keywords you come to us with. We hope that you've had a retro-futurism filled 2011. Here are two nifty neo-Victorian festivities to ring in the New Year with. If you know of any others, sing out.
Steampunk New Year's Events for the 2011-2012 Bridge
When:

December 31, 2011 to January 1, 2012

Where:

Philadelphia, Pennsylvania

What:

Dorian's Parlor is a regular steampunk party held several times throughout the year. To ring in 2012 they're holding a special New Years Eve Spectacular (no apostraphe, so I assume they're celebrating multiple new years as opposed to throwing a party belonging to a particular fresh anum). Mighnight champagne toast, gift bags, entertainment, general steampunk merriment and such.
When:

December 30, 2011 to January 1, 2012

Where:

Fort Worth, Texas

What:

Three day steampunk convention held to greet 2012 in proper steamy style. Celebrate New Year Weekend with Steampunk concerts, dancing, panels, gaming, fashion shows, and steamy readings.