Tour the TARDIS Set at Official Doctor Who Convention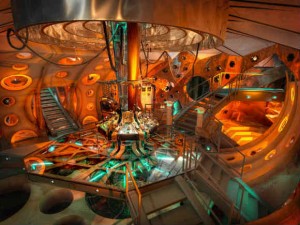 So, the BBC announced last year that they would be holding their first official Doctor Who convention. The event is scheduled for March 24-25, 2012, and will be held at the Millennium Centre in Cardiff (that's in Wales, a country to the west of England that has nothing particular to do with the sea-dwelling mammals with a similar sounding name).
The BBC has been busy making announcements of Guests, such as Matt Smith and Steven Moffat. But their latest news about the convention is quite a heart stopper for the hardcore Whovian. Tours of the actual TARDIS set. For FREE.
An exclusive opportunity has arisen for Doctor Who Convention attendees to visit the TARDIS set at the BBC Wales studios, home of the Eleventh Doctor's TARDIS. Due to the earthly limitations of time and space, places on this free tour are limited so fans will need to book soon to be sure of a chance to visit. …

On the tour, visitors will step into the Eleventh Doctor's TARDIS and explore the set where some of the show's iconic scenes have been shot. Members of the behind-the-scenes team will be on hand to explain the inner workings of the TARDIS, talk about the set and answer questions from fans.
MattSmithCreepsMeTheHellOutBut *SQQQUUUEeeeeeeee!!!!!*
Ahem. Now that I've got THAT out of my system…
The tour of the TARDIS set used by the current Doctor is ONLY available to attendees of the 2012 official Doctor Who Convention. Which is being held in the country of Wales, in Great Britain. Which is drastically not near San Diego. (AGAIN you foil me, cruel geography!)
The 2hour 20minute long tours will be run March 26 and have strictly limited spaces that are subject to availability.
Because this is a working set there will be an official tour bus that will pick up all tour goers. Also, they can't accommodate any special needs visitors. So, no wheel chair accessibility on the TARDIS.
If you've already purchased your tickets to the official Doctor Who Convention being held 2012 than you can sign up for the tour by calling their customer services at 0844-583-7777 (NOTE: the Country Code for the UK is 44, so callers in America would dial 44-0844-583-7777).
For full details about the tours of the 11th Doctor's TARDIS set at BBC Wales visit the TARDIS Set Tours page at the convention's website.