Clockwork Con Brings Steampunk to Austin!
Most people expect an interesting and fun, but chaotic time at brand new conventions. The lack of communication and organization at some new events is such a problem that many won't even attend until the second year, but Clockwork Con surprised people by being unusually well organized and well run.
The panels were many, varied, and appeared to have been well attended even as early as 11 am on Saturday. Topics ranged from Multicultural aspects of Steampunk Attire and character portrayal to art, music, steam punk film debuts, and even such pragmatic topics as running a convention or an "airship as a business" Overall, the variety and quality of panels appeared to be the greatest strength of this convention.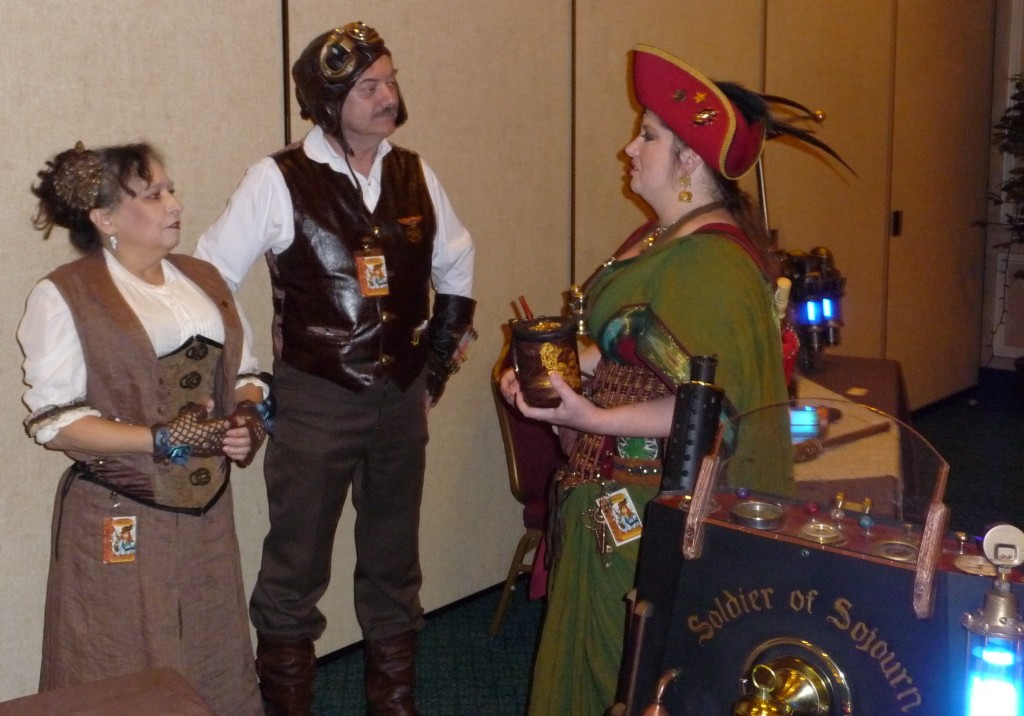 The Gadgeteer Festival was actually surprisingly impressive! Some steamy inventors brought in helicopter back packs, powered glowing canes, steampunked robots, and a host of other conveyances, art, and gadgets made by creative geniuses to rival the best items I've seen on the internet anywhere.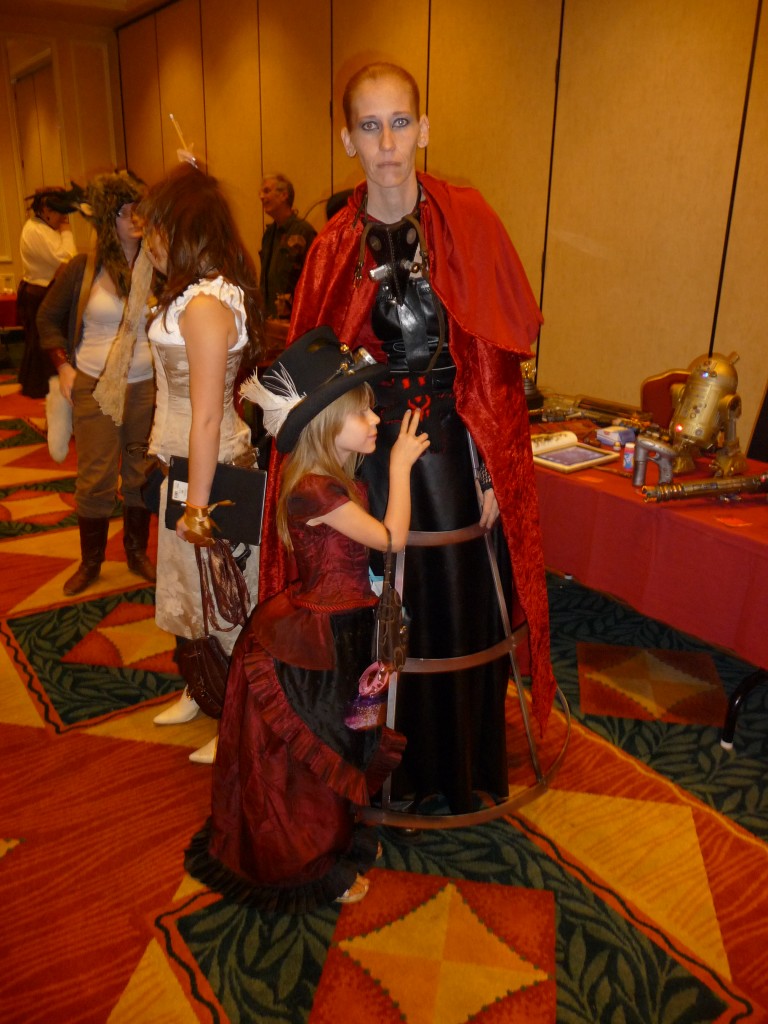 The Comedy show Friday night was started off by Mr Saturday and Sixpence who led some fun improv interactions between themselves, audience members, and the events Special Guests Baron von Lahey from the Wandering Legion of Thomas Tew and Emperor Justinian of the Red Fork Empire! After that the comedy continued with Cut, Thrust, and Run, who presented a wonderful blend of improve. comedy with highly professional & comedic sword battles on stage. This was followed by the magic show by Roscoe from Biloxi. Finally Taloolah Love and other fine Burlesque artists titillated the attendees, but only if they were able to produce an adult ID to attend. All of this was well attended with about 150 + in the main event hall.
On Saturday Night the concert was scheduled to be led off by The Voodoo Island Cannibals, a really colorful group of Pirates that drum, strum, and charm the audience right out of their doubloons! (Or was that bloomers?) Steam Powered Giraffe then made the audience laugh, sway to the music, and applaud, a lot! Their music reminded me of a blending of smooth Jazz and old style Rock from the 40s and 50s era. Marquis of Vaudville was great, as always. This Diesel Punk/Steampunk band has been adopted by the Texas Steampunk community so completely that they are playing at almost every steam punk event in the region for 2011 through 2012. The crowd was again around 150.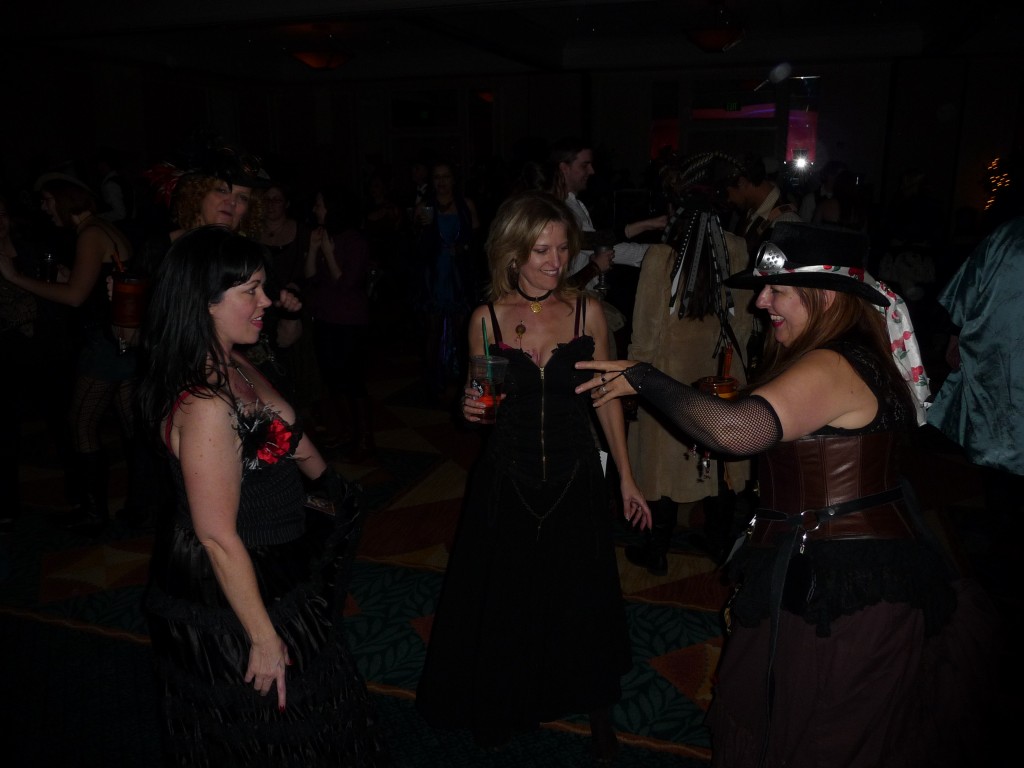 The dances were attended fairly well for a steam punk event. What seems to be confusing the DJs though, is that our hard core dancers come largely from Goth, Neo-Pagan, and Renfair backgrounds, so their tastes in dance music are much more into Darkwave and Belly Dance styles of music. In fact, as Steampunk has largely appeared at anime festivals and conventions prior to this year in Texas, it is quite understandable that our DJs are largely confused as to why the steam punk audience is not attracted to rave music, electronica, or re-mixes that are normally what they play.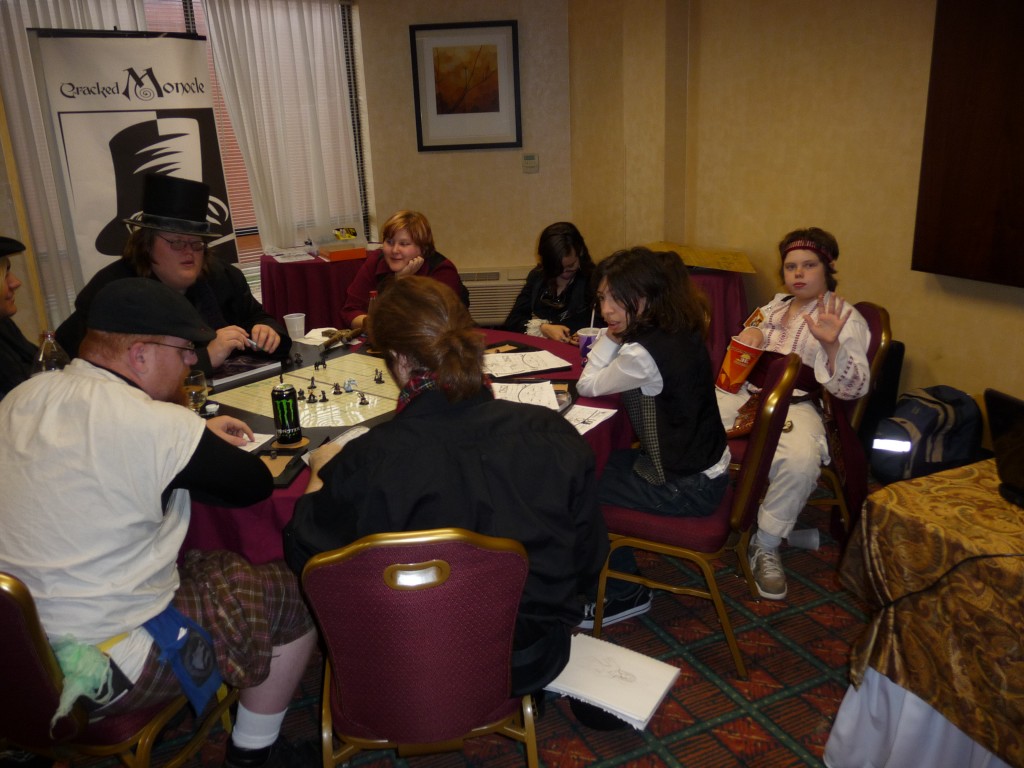 The game room focused on Tephra, an excellent new Steampunk RPG, with some additional games available such as Magic the Gathering and Laser Chess. It was well set up and well run. They even had special constructed wooden table covers that kept dice, papers, pencils etc. neatly in place for each of the players. While making Tephra the main game available is a bit of self-promotion, (since the convention's organizers helped invent the game), I was thrilled to see my 11 year old playing something without electricity. The only real thing they need to work on in the game room is that it was difficult to find someone available to help set up a new character if you didn't have one already, and it was difficult to enter a game already in progress.
When the event was done, what really stood out, beyond all else, was that this was a fun place for people to meet each other, hang out with friends, show off new gadgets and costuming, and generally feel a part of something exciting, colorful, and interesting! The hallmark word that keeps coming up at all steam punk events in our area is "Community". While there are always some kind of conflicts whenever large numbers of people get together, here they were so few and rare as to be almost invisible.
Instead of High School popularity contests and jocks versus nerds, this seems to be a place where people genuinely try to revive the idea of courtesy, mutual respect, and acceptance of people from all walks of life. In fact, this is one of the few places where those that are the most different are often the most admired. Here even the quiet, shy, inventor types stand out and are recognized as powerfully positive role models and teachers to the community as a whole!
This event was quite impressive for a first convention from the Clockwork Con staff. Well done to all of you! I look forward to seeing more of your events and hope to do so for many years to come!