The Nightmare Machine Steampunk and Paranormal Convention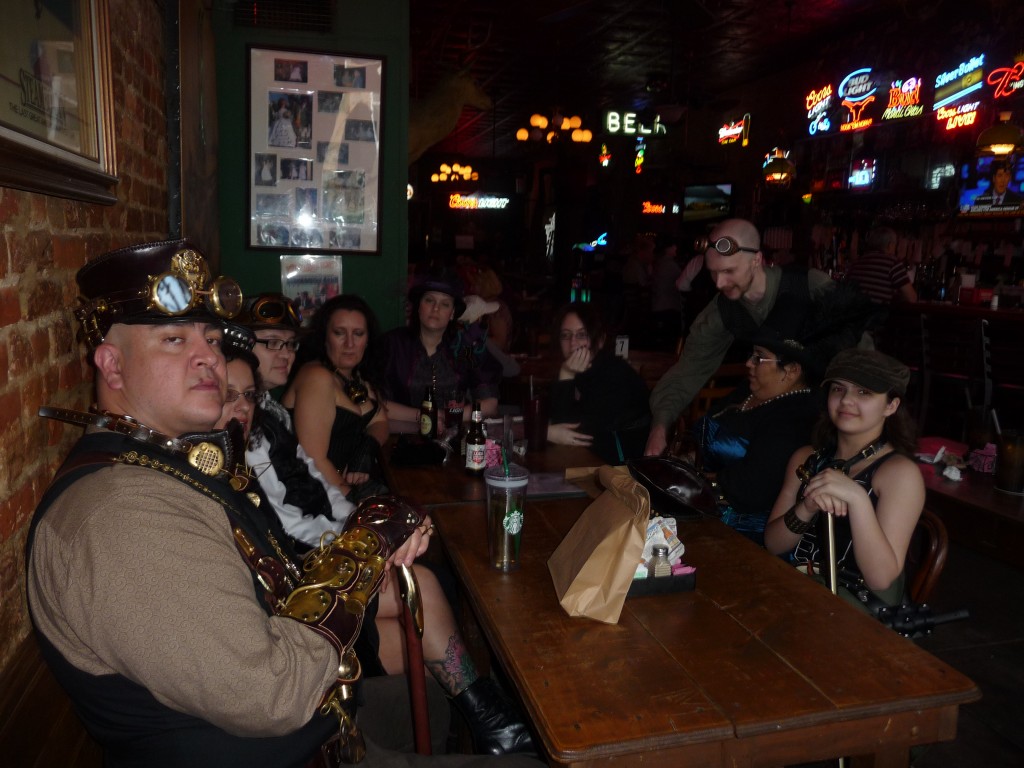 Many new conventions have surfaced in the Southwest with a blending of science fiction, invention, and Victorian Era or Pre-victorian Era Cosplay that are referred to as Steampunk. The newest among these, The Nighmare Machine, blends this "retro-futuristic" all original character style cosplay event with panels, events, and real experiences in the supernatural and paranormal in what is billed as "the Most Haunted city in Texas!" 
This event is produced and presented by the Steampunk Illumination Society which is based in the Dallas-Fort Worth Area of Texas, but not limited to that region. The Steampunk Illumination Society is a very Laissez-Faire group that exists to facilitate teaching and sharing of ideas, methods and skills in costuming, drama, fiction writing, prop creation, Steampunk as fun, and even Steampunk as a lifestyle. It also seeks to share this wonderful sort of fun with the public and attempts to inspire them to become more creative once again themselves.  
The Nighmare Machine succeeded marvelously on all counts!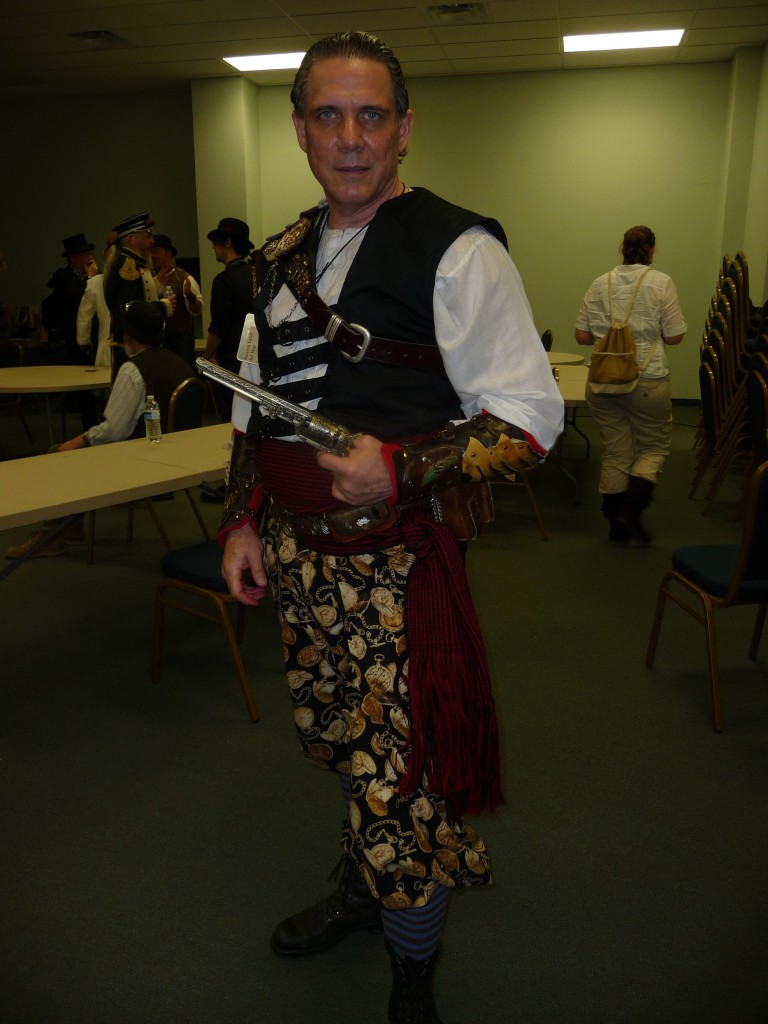 This was the most unusual Steampunk Event I have attended and made for a truly immersive experience.  Instead of pretend Victorian scenery, the entire city was pretty much still Victorian Era in style and design.  The general store was Wild West and/or Diesel Era for real!  The last wood burning steamboat in the world (that I know of anyway) still operating, gave rides as part of your admission price.  A perfect replica Steam Train gave an extensive tour around the town.  The horse drawn carriages toured the interior of the town.  There were Ghost tours (also included in admission price) cypress groves, old west era city streets, and even brass convention badges beautifully engraved with the Steampunk Illumination Society Image.  (at no small cost I'm sure!)  There was even (get this!) a free "Museum of Time and Measurement" that featured all sorts of clock sand time pieces, early calculating devices, and land measurement devices of all types available for view.
The "Museum of Time and Measurement" also provided one of the three main panel locations for the event. The second panel location was at the Russel Building, a very old style brick building (painted bright pink) attached to one of the oldest and most haunted buildings in the city.  The final location for panels, as well as the main performance room for shows, was at the tourism center right next to the Replica Steam Train station and across the street from the outdoor vendor's area.  While these three main centers of activity were each about 3 or 4 blocks apart from each other, it was spring and the town was pleasing to the eye, so complaints about walking time or distance were not that frequent and free parking was pretty easy to find in any case.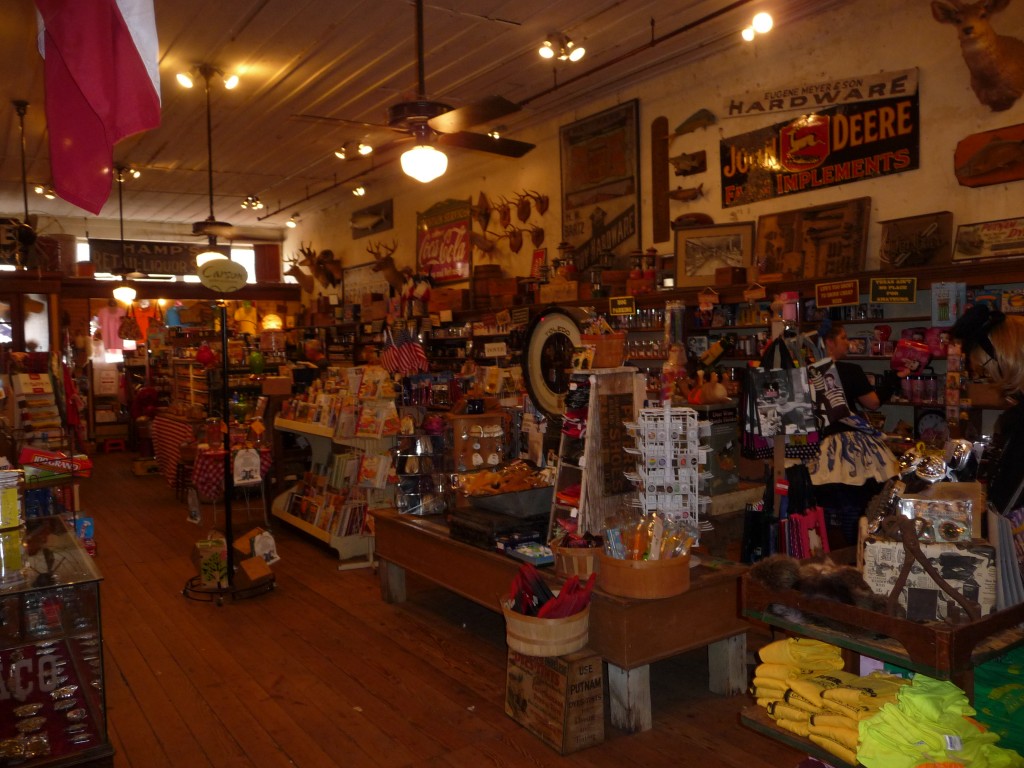 I find that my complete listing of events has vanished somewhere and the schedule is no longer on the web site. (Maybe one of the ghosts ran off with it?)  As such I will simply discuss the panels or performances I personally saw or heard about at the event.  The Dieselpunk Panel, presented by local experts Larry and Tina Amyett was great as always.  It introduced the attendees to the concept, look, and focus of Diesel Punk as a unique genre and it's role in the larger Steampunk Community.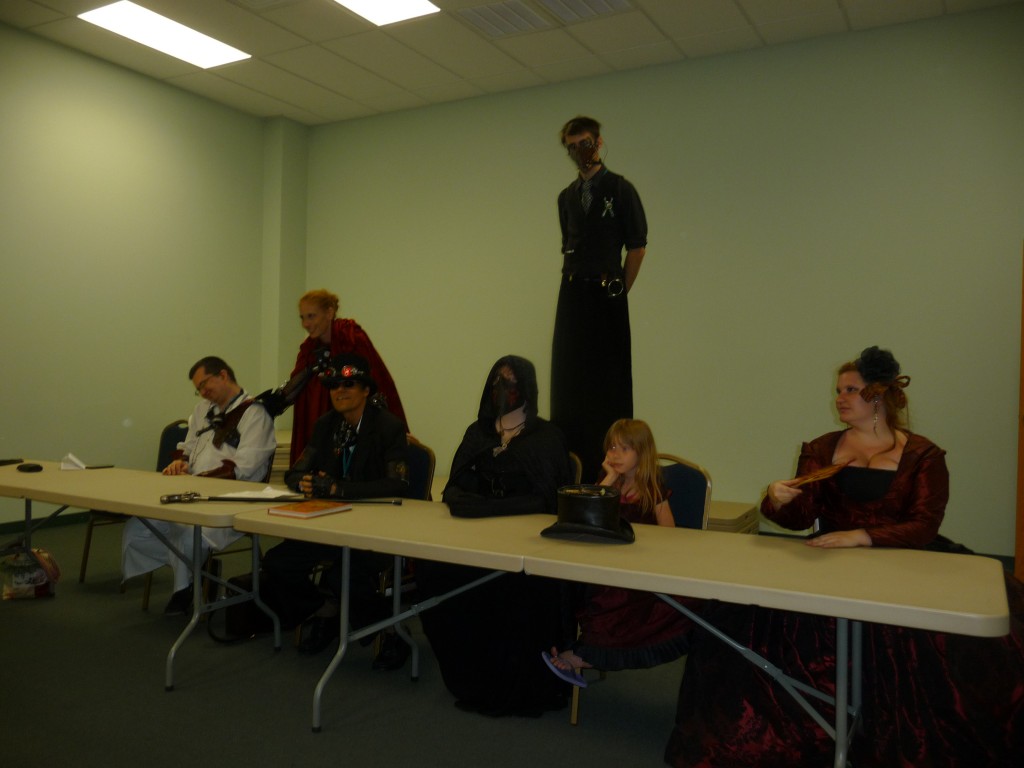 "Dark Steampunk" was presented as well, which apparently introduces a very mysterious, gothic, and somewhat sinister look to Steampunk in mostly black cloth or leather with nickel and some crimson. (as opposed to the typical brown leather and brass) The outfits are very focused on producing an imposing, intimidating, and somewhat sinister look.  This often includes masks, some of which appear to represent Raven's beaks, in a way that plays upon the human subconscious deliciously well!  This approach has played a very big role in recent LARP events where the "Dark Steampunks" portray the "bad guys" (if such actually exist) or at least the opposition force to provide a respectable adversary for ASI and SCARS.
This event also hosted a number of unusual paranormal panels such as "Real Ghosts", and the "Real Vampyres" panels presented by Kali's Hourglass.   Real Ghosts presented general theories about what ghosts really are and the various types of manifestations that might not actually be ghosts, but are indeed a haunting.  They also shared personal experiences living in various haunted homes and how they were able to live in harmony with and eventually help release ghosts from the trap of their existence.  The "Real Vampyres" panel touched lightly on historical facts, myths, and legends, in order to give context and vocabulary as well as symbolic contexts.  It then focused on the modern phenomenon of actual Vampyre Cultures which are not fictional, but actually exist as a fully developed human subculture today.  It also discussed the variety and general differences between psychic vampires, online vampires, Blood Fetishists, Ethical Vampyres, and other types within said subculture.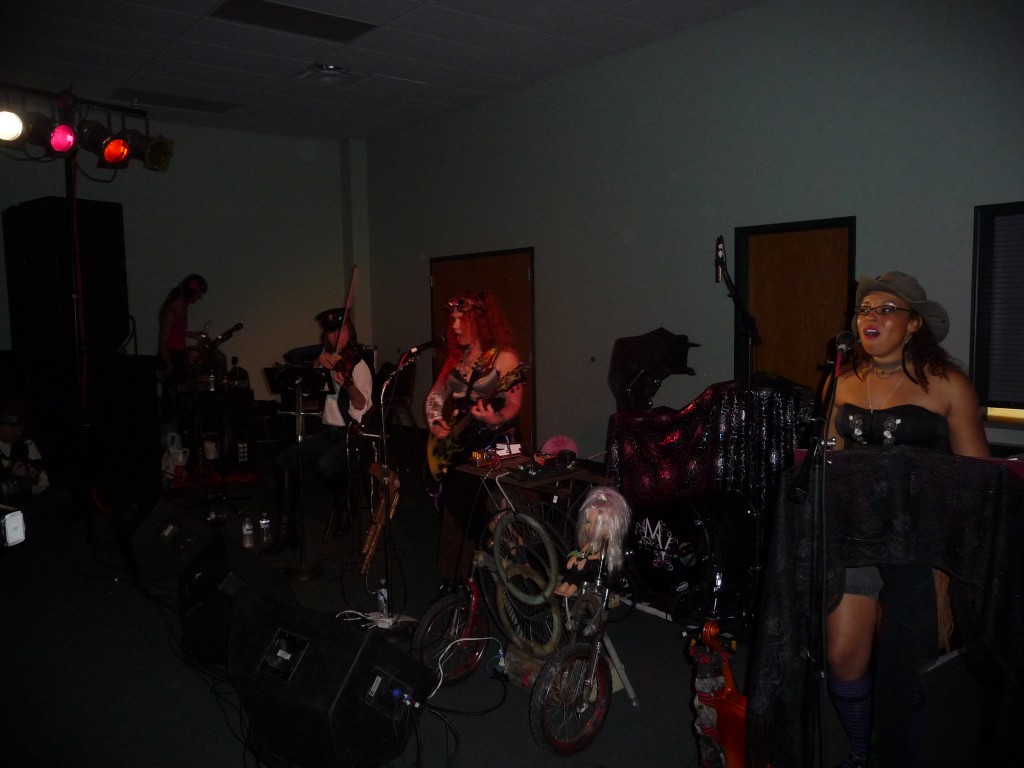 Musical performances were many and excellent from Darwin Prophet and the Chronus Mirror, Marquis of Vaudville, BB Blackdog, and My Wooden Leg.  Darwin Prophet not only showed up after a fall that left one arm and one leg in a cast, but still managed to perform, (with guitar no less!), at every scheduled performance.  She first played acoustic outside the Hotel where her beloved Oscar Wilde once stayed and wrote beautiful poetry in a tribute to his great contributions to the arts.
Marquis of Vaudeville actually led off the main concert this time, and as always, provided an excellent performance that got all the dancers up on their feet unable to sit still with exuberance during their show.  Darwin Prophet and the Chronus Mirror was next.  They had an excellent set with full heavy instrumentation which had the audience up and dancing throughout.  My Wooden Leg was next with a somewhat quirky, but very entertaining set.
BB Blackdog was the final act.  Their bluesy old rock style with deep throated bass was truly something different that pulled emotions and joy, at least among us old style rock and rollers, in a powerful way.  They played quite a variety of styles within their general genre asking the audience to choose if the next be more hard rock, blues, funk, or something else.  As the audience included young children, the more controversial numbers were not performed, but the ones that were presented were incredibly well received, and the dancers among the crowd found a second wind when these soulful musicians took the stage!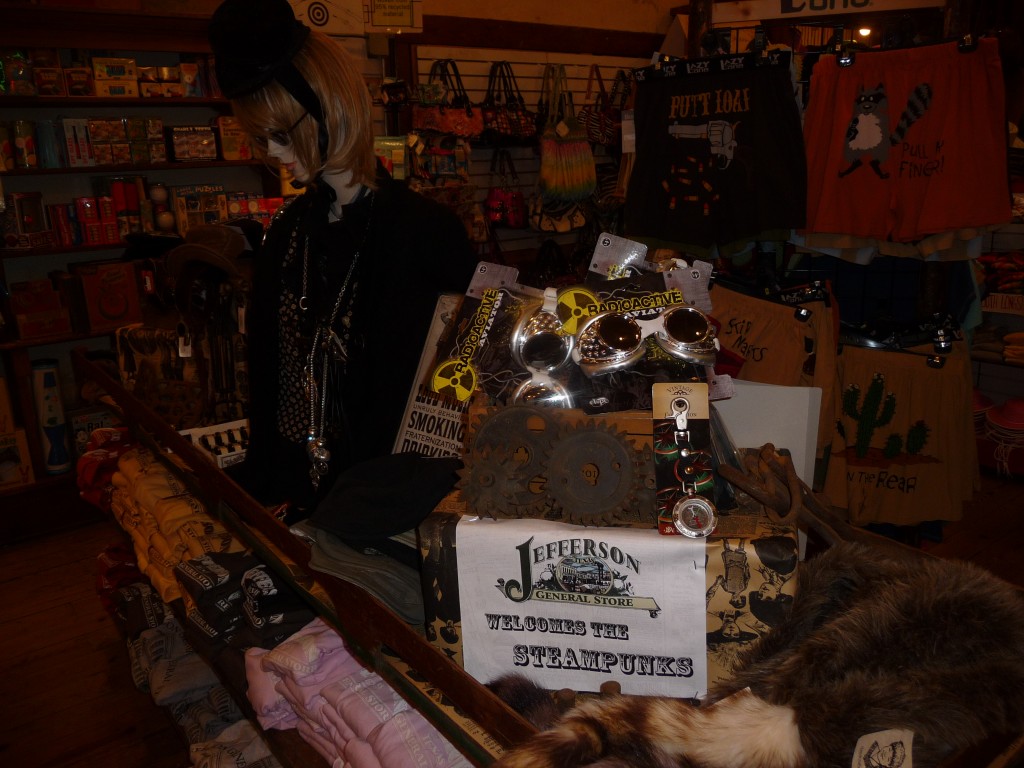 The towns people were uncertain what to expect from a bunch of "Steampunks", but said over and over how surprised and pleased they were at how polite, clean, and well behaved our attendees were.  Apparently many conventions or events leave a lot of litter in the streets, drunken arrests, and other problems that they did not encounter with any of our people.  They were also surprised how much income our event generated for the town in light of the rather small turn out that new events can attract.  As such, the town is pushing hard to get us back next year, but while the location is a good place to offer more events for Steampunks in Louisiana and Arkansas, it was so far away from hotbeds of Steampunk activity like Austin, Houston, and San Antonio, that it may not be practical to have it in the same location next year.  We will just have to wait and see.