A Current List of Star Trek Actors on Twitter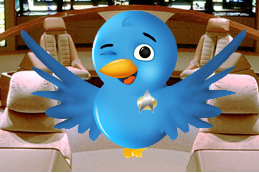 You may be wondering why a blog dedicated to fandom conventions would be writing about Twitter. Hell, you may even be wondering what Twitter is! For those who may not know, Twitter is a social media site that allows users to post 140 character messages to the internet.
Many celebrities have joined the Twitter craze, and as they do Twitter works to officially "verify" them so fans know the account is legitimate. Several Star Trek actors are among the celebrity Twitter users, and I wanted to give you all a list of them.
Why you ask? Well, for one thing, several of these actors will do Twitter-based question and answer sessions, or respond directly to the occasional fan question. In a way, Twitter has become just like a digital Q&A at a fandom convention. I happen to think that's pretty darn cool. These celebrities are also using Twitter to tell fans about their upcoming convention appearances, and they sometimes "tweet" (i.e., post Twitter updates) while at cons.
Enough jibber jabber, here's the list! Pleas note that these are only confirmed accounts. Known fakes are listed as the end. I won't be posting ones that are unverified.
Star Trek Actors on Twitter, Listed Alphabetically by Name:
Brent Spiner: @BrentSpiner
Chase Masterson: @chasemasterson – verified personally by us
Garrett Wang: @GarrettRWang – vouched for by LeVar Burton
George Takei: @GeorgeTakei – Link on his official site confirms it is legit
Jeri Ryan: @JeriLRyan
Jonathan Frakes: @jonathansfrakes – vouched for by TrekMovie.com
Leonard Nimoy: @TheRealNimoy
LeVar Burton: @levarburton
Nichelle Nichols: @RealNichelle – vouched for by LeVar Burton
Simon Pegg: @simonpegg
Wil Wheaton: @wilw
William Shatner: @WilliamShatner
Zachary Quinto: @ZacharyQuinto
Zoe Saldana: @zoesaldana
Known Fake Star Trek Actor Twitter Accounts:
Jeri Ryan: @jeriryan – She has a verified account listed above
Jonathan Frakes: @Jonathan_Frakes – Called out by Wil Wheaton as a total fake
Leonard Nimoy: @leonardnimoy – He has a verified account listed above
And although he's not an actor, Gene Roddenberry's son is on Twitter: @roddenberry. He doesn't have the verified stamp, but I've communicated with him directly in a manner that proves to me beyond a shadow of a doubt that he is, in fact, Rod Roddenberry.
As more Star Trek actors join Twitter, or as unverified accounts become verified, I'll update the list.
This list was last updated on June 28, 2011.