East Coast Star Trek Convention 2010 Convention Report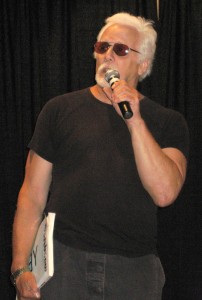 This past weekend Creation Entertainment hosted the Official East Coast Star Trek Convention in Parisppany, New Jersey. On the guest list was George Takei, Jeri Ryan, Casey Biggs, Jeffrey Combs, Armin Shimerman, Max Grodenchik, Vaughn Armstrong, Nana Visitor, Ethan Phillips, and J.G. Hertzler (who was a last minute replacement for Jennifer Lien, who canceled).
Creation is one of several large convention companies in the United States. Like Wizard Entertainment and ReepPOP, they are for-profit companies that run conventions, and not non-profits or fan-run (although many of their paid staff are indeed fans). That said, I was concerned about whether the convention would have a corporate feel to it. I must say, it didn't bode well for Creation when I read about the $7 fee applied to each ticket purchased online or over the phone, especially when the tickets are delivered via printable PDF in an e-mail.
However, some of my fears were assuaged when their check in and registration process ran quite smoothly, especially when compared to some of those fan-run conventions I've attended. Tickets had barcodes which were scanned and verified instantly. Those attending for multiple days got a flexible col0r-coded plastic wrist band instead of a badge. I wish more conventions went with this method. It saves a lot of time, and I didn't have to worry about a badge getting lost.
This convention had a great guest line up, there's no denying that. George Takei is one of the most gracious and entertaining Star Trek guests out there. Jeri Ryan and Nana Visitor are rare convention attendees, which made them both a big draw. Jeffrey Combs, Max Grodenchik, Armin Shimerman, Vaughn Armstrong, and Casey Biggs are all friends, and often perform together. Having them all at one convention was a real treat for attendees. Ethan Phillips and Jennifer Lien would have been a nice pair together, except that Lien had to cancel as the last minute.
Here's another gold star for Creation: When Lien canceled, they efficiently and quickly replaced her with another guest. J.G. Hertzler ended up taking her place the day she had been scheduled. Creation made it super easy to exchange out autograph and photo tickets. They did their best to ensure attendees weren't disappointed, even though the situation was completely out of their control. On top of that, they were damned efficient when it came to getting the autographs and photo ops done. They clearly know how to run a show, and run it well.
And for the record, J.G. Hertzler is the man. If you are a DS9 fan, you should absolutely try to attend a convention with him. You will not be disappointed. J.G. Hertzler is pretty much a Klingon in real life.
Aside from the celebrity guest Q&As, the convention offered attendees trivia games, some time with Richard Arnold (Gene Roddenberry's personal assistant for 15 years), Star Trek music videos, and a few panel discussions. And while all of this was entertaining, I do think Creation could step it up on the programming offerings. There were additional conference rooms at the hotel, which would have allowed for some more events. It would have been nice to see more panel discussions, or maybe some costuming workshops. The way Creation set their schedule up, there was never more than one event happening at a time. The convention clearly revolved around the celebrities, and I think it could benefit from adding additional events during the day (that do not cost extra!). While there were also some exclusive events at the convention (such as the dessert party), they involved an extra ticket at an extra cost (unless you had the Gold Weekend Package, which was very expensive).
Overall, the convention proved to be an enjoyable way to spend the weekend. The celebrities were entertaining. The fans were friendly. The Creation staff members were accommodating and helpful. But in the end, Creation is still a for-profit company, and it feels like it. If they made it less about buying autographs, photos, and expensive ticket packages, and more about fan interaction, I think they'd have better conventions that would attract even more attendees.