Top 5 Easy Convention and Halloween Costumes
The temperature is dropping and leaves are changing, so that means Halloween is just around the corner. You are never too old to dress up and it's never too late to pull together a costume. No matter your time or budget, here are a few great costume picks for this haunting holiday, and some suggestions that won't empty your wallet. Plus, any costume you create for Halloween, you can usually get a few more uses out of by wearing it to a fandom convention.
Yes, you might be thinking the last Pirates of the Caribbean movie came out in 2007, but a new film looms on the horizon, and we did just have International Talk Like A Pirate Day on September 19th.
Pirates are classic and you can never go wrong with a classic. The few key parts can be found in almost any closet: a white button down shirt (the puffier the better) mismatched belts, a vest, and boots. Black pants are a good base if you can't find anything else. If you don't have a pirate hat, a bandanna or large head tie will be fine. With this it's all about accessories, the more you have the better! Lots of bangles, earrings, jewelry, even random objects dangling from your belt will do the trick.
4. Lady Gaga
She has many outrageous outfits to choose from, so how could you possibly pick? An easy one would be from "Bad Romance," specifically the outfit from when she is looking at herself in the full mirror. Black pants, long sleeved top and a simple black crown (easily made from craft foam or paper) – just wear it slightly off center and paired with a long straight blond wig.
For something more challenging, try the meat dress from the MTV VMAs. This one may cost more and require more effort. Real meat would be a little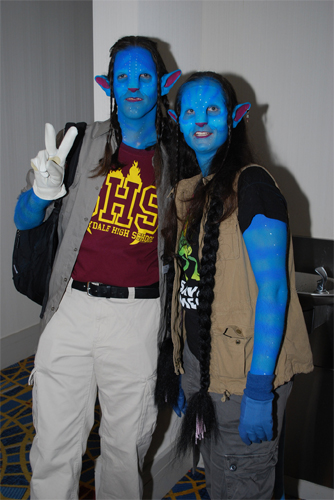 gross even for a Halloween party. All you need is lots of steak dog toys. I know I have seen them frequently at my local dollar store. Consider cutting them in half the long way, which would effectively double your amount and be easier to attach. Just get a plain sun dress and hot glue/super glue them together. Secure a few with good old needle and thread to prevent any wardrobe malfunctions.
3. Avatar
Jake, or any of the humans as the Na'vi, would be the easy choice for a costume theme based on the hit movie, because they wear "normal" clothes. Find an outfit that mimics theirs, and get two pairs of blue tights. One pair you wear on your legs, the other you will cut out the crotch and feet and wear like sleeves. Add blue gloves and you have cut down the amount of body paint you will need. You will just need to paint your neck and face, grab some blue craft foam and cut out ears, and get a long black wig. Braid the wig and attach the ears to a head band or hair clip.
2. Twilight
Yes, the nation is still Twilight crazy. But lucky for us these are some super easy costumes! Since everyone in the movie wears pretty basic clothing that you can pull from your closet or local Goodwill, this one is all about the little details. If you want to be serious, find contacts to get the eyes right, or be sillier and slather yourself with glitter–anything goes! With the last two movies werewolves have been gaining in popularity as well. If you want to join Jacob's pack all you need is cut off shorts and 6 pack abs. You can find images and templates of the pack tattoo with a simple Google search. This could be a fun group costume.
1. Alice in Wonderland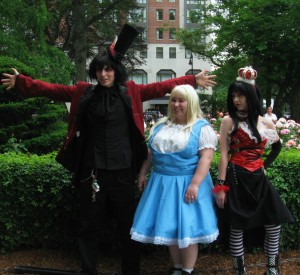 Yes, with the Tim Burton movie still in people's minds this is my number one pick. Alice has been a favorite of mine for years, and I myself have been Alice a few times for trick-or-treats past. What's so great about this new film is people now have more outfits for Alice to wear. The down side is that all the Alice and Wonderland items for sale seem to focus on the movie and so up goes the price. For a recognizable Alice, a blue dress is best, along with a white apron with a bit of lace that can add to the look. Blond hair with a bow and that's a basic Alice look. You can easily change that to the video game "Alice" by adding a little fake blood. The Mad Hatter will be another popular choice. The best suggestion I can give is get an old suit jacket and add some brightly colored and patterned patches, an over-sized bow tie, and high water pants with bright mismatched socks. For the top hat, you can buy a cheaper plastic one and cover it, or make one with craft foam and card board. Don't forget the index card with the 10/6.
The trick to any good costume is just to have fun with it and in it. So it doesn't matter if you have no budget and have to do the toilet paper mummy, or wrap your self in tin foil and be leftovers, just have fun.