Off-the-Rack Halloween Costumes that Double as Decent Cosplay Costumes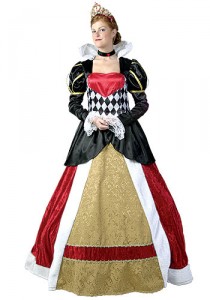 Halloween is almost here, and if your neighborhood is anything like mine, at least two or three temporary Halloween stores have opened up nearby. Guess what? They are all about to seriously slash their prices just after the Halloween holiday (and maybe even a day or two before). This means you may be able to snatch up some discounted costumes and props.
Now, there is a bit of a stigma that convention and cosplay costumes should always be hand made, but not everyone has the time and talent, which means getting a pre-made "off-the-rack" costume is a totally valid option. I'm not saying it'll be the best costume you ever own, but if you want to cosplay at a con, this isn't the worst way to go about it. That said, some of the costumes in the list below are authentic replicas that cost more than a month's rent for some people, and certainly not the typical cheap Halloween threads. I've tried to provide a nice mixture of cheap and "replica" quality.
Below are some off-the-rack Halloween costumes that could work for convention/cosplay use. Bonus if you can find them on sale in a physical
store.
Movie Costumes:
Nightmare Before Christmas Sassy Sally Adult Womens Costume – $49.99
Star Wars Deluxe Princess Leia Costume – $54.99
Star Wars Queen Amidala Costume – $44.99
Star Wars Chewbacca Costume Authentic Replica – $424.00
Authentic Darth Vader Costume – $794.00
Star Wars Stormtrooper Authentic Costume – $795.99
Alice in Wonderland Deluxe Mad Hatter Costume – $79.99
Alice in Wonderland Elite Queen of Hearts Costume – $48.99
Ghostbusters Costume – $34.99
Gold Star Trek Costume | Adult Spock Star Trek Costume – $28.99
Female Star Trek Costume – $29.99
Adult Deluxe Indiana Jones Costume – $44.99
Harry Potter Adult Luna Lovegood Costume – $32.99
Harry Potter Women's Death Eater Costume – $33.99
Harry Potter Deluxe Death Eater Costume – $34.99
Adult Robin Hood Costume – $118.99
Deluxe Werewolf Costume – $279.99
Who Framed Roger Rabbit – Jessica Costume – $38.99
Donnie Darko Frank the Bunny Costume – $199.99
Comic Book / Superhero Costumes:
Watchmen Silk Spectre II Costume – $52.99
Watchmen Rorschach Costume – $54.99
Adult V for Vendetta Costume – $52.99
Batman Adult Joker Costume – $54.99 (skip the mask though and just paint your face)
Batman Sexy Robin Costume – $44.99
Dark Knight Authentic Batman Costume – $489.99
Authentic Iron Man Mark 6 Costume – $249.99
Adult Deluxe Hit Girl Costume – $78.99
Adult Kick Ass Costume – $44.99
Jonah Hex Lilah Costume – $58.99
Video Game Costumes:
Halo Master Chief Costume – $795.99
Lara Croft Tomb Raider Costume – $62.99
Adult Mario Costume – $34.99
Adult Luigi Mario Bros. Costume – $34.99
Adult Deluxe Prince of Persia Dastan Costume – $41.99
Adult Chun Li Costume – $38.99
Adult Ryu Costume – $42.99 (abs not included, sorry guys)
Generic Geeky Costumes:
Adult Mad Scientist Costume – $39.99
Men's Victorian Vampire Costume – $29.99
Women's Tavern Wench Costume – $34.99
Captain Morgan Pirate Costume – $48.99
Adult Zombie Costume – $38.99
Zombie Doctor Costume – $34.99
Shoes:
Women's Victorian Boots – $38.99
Buccaneer Black Boots – $38.99