ConDor 2011 Convention Report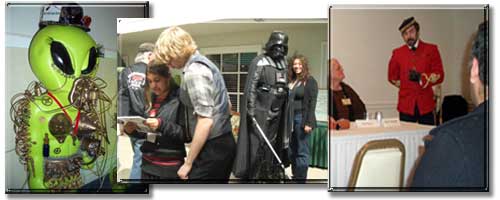 Ah, ConDor Con – my favorite sci-fi/fantasy convention; your engaging and informative panelists, your literary focus, your fun themes, your all-ages programing, your tastiness-filled con suite, your cozy atmosphere.
*sigh of contentment*
A quickie intro for those of you unfamiliar with the event … ConDor is San Diego's longest running science fiction and fantasy (SFF) convention. The 3-day SFF fest is held, each year, on the last weekend in February.
The 2011 event was Feb 25-27 with Guest of Honor author Gregory Benford and Special Guest actor Herbert Jefferson Jr ("Lt. Boomer" on the original Battlestar Gallactica show).
So, did I have fun at the 2011 ConDor? Yes, I did.
It was more laid back than last year's, partly due to not as many panels evoking a "Oh I HAVE to go see that!" reaction from me. It's kind of nice to not feel you need to go to panel.
And it encourages hanging out with the other human-like devices in attendance.
Thematically Speaking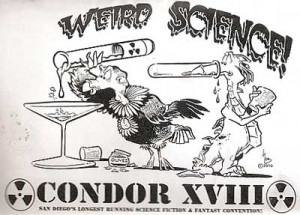 This year's theme for ConDor was "Weird Science!". With a truly fun program cover/t-shirt.
Panel-wise that translated to several science-based things like "String Theory for Beginners", "Modes of Faster Than Light Travel" and "Privatization of Space".
I have to admit, didn't really see the connection between the theme and the panels this year until I started writing this Report. But I have the excuse of not really paying attention at the time. That's an excuse, right?
Frankly, my favorite incorporation of the "Weird Science!" theme was in the con suite, among the tea and hard boiled eggs. The lab-coated con suite attendants ran food-based experiments all ConDor. My favorite, of course, was the Pop Rocks in test tubes and soda experiment complete with waiver you had to sign to participate. *hehe*
And, of course, there was the sight of programming organizer Jim Hay running around the courtyard in a lab coat with a rubber fish on one hand and plushy dinosaurs clomped to his ankles screaming about his test subjects. THAT was mighty entertaining, and thematic as well. Though, let's be honest, you don't need a theme to get Jim in mad scientist mode.
"All Ages"?
I suppose before I begin rambling on about the rest of 2011′s ConDor event I should quickly explain what I mean when I call it an all-ages event.
It seems that most SFF cons either trend towards a) an average attendee age of 40 or b) cosplaying teens who have never heard of that Heinlein guy.
ConDor does a great job of having programming, guests, and events that draw in a wide swath of age groups from across fandom.
One quick example is the Hogwarts Classes series of panels presented each year by The ConDor Academy of Magic Continuing Education, engaging that next generation of SFF fans and encouraging parents to bring their younglings to the event.
Rain, Rain Go Away
The only real negative to the 2011 ConDor event was that whole water-from-the-sky phenomenon the rest of you call 'rain'.
Last year ConDor was over at the Handlery Hotel, which is one building. But a series of issues (from pricing hikes to inconvenient food rules) moved the 2011 event over to the garden-like Town & Country. The big effect of that move was that the con went from being entirely indoors to being split between two adjacent buildings joined by a little courtyard area.
Which wasn't a problem until that whole water-from-the-sky thing.
The storm rolled in late Friday night, so it didn't impact the con's first day or those driving home afterwards. But it did come down in varying degrees of severity most of Saturday, prompting those who drove in from out of town to take off early that evening to avoid the next deluge.
The hotel was quick to address pooling water, though, and even provided guest umbrellas.
And going between the two buildings for various panels wasn't too bad, since the courtyard was sort of sheltered and it mostly just drizzled in a lazy fashion during the day.
Sunday, of course, was cloudless and beautiful. A return to the luxurious weather San Diego usually boasts.
And the San Diego river, which kind of runs behind the hotel, didn't raise high enough to flood the hotel parking lot. Which anyone without a spot in the parking garage was kind of worried about Saturday morning.
The Panel-ey Goodness
As I mentioned above, ConDor does a good job of having a wide range of panels and guests to appeal to an all-ages crowd; from Victorian dance lessons to YA guest authors to writer-focused topics to Paranormal Investigation, and so on.
I'm quite capable of just rambling on for ages, so I'll try to just touch quickly on my favorite panels at this year's event:
Creating A Non-vanilla Hero
This was a 10:am panel on Saturday, and I initially went more because my taller half had a seat on the panel. But it turned out to be pretty fun and interesting.
There were a handful of us hardy souls willing to brave the terrors of 'early' morning, so the panel had an intimate feel that encouraged just calling out questions and comments so there was a constant dialog. Which, frankly, is my favorite thing about local SFF cons.
And the panel had a nice mix; sci-fi author Jefferson Swycaffer, YA fantasy author Kevin Gerard, my taller half (of course), and media-tie-in author Marsheila Rockwell.
The basic conclusion of the panel was that vanilla characters are fine as long as they're seasoned well.
Elizabethan Fencing Demonstration
So, this was my favorite Panel-I-Almost-Didn't-Go-To for this year's ConDor.
The somewhat lackluster name had turned me off so I went to the "Discoveries of the Cassini Explorer" panel instead. Only that one didn't happen because scientist Kevin Grazier never showed. Again.
So I went to the "Elizabethan Fencing Demonstration" in the next room.
First of all, the name was a bit of a misnomer since it really was an overview of several sword dueling styles, schools, and weapons.
The panel was presented by actor-etc Bret Culpepper and his colleagues from the Bankside School of Defense. Bret and company demoed a range of techniques; broadsword dueling, staves, sword and main-gauche, and atiempo phrases from the movie Hook.
I have to say, I LOVE it when Bret Culpepper comes to conventions; dude's got a lot of great knowledge to share and he does it well. Looking forward to his appearance at Gaslight Gathering in a few months.
Check out the pictures I took in our Flickr album.
Steampunk Before There Was Steampunk: The Victorian Writers
A fun panel with knowledgeable and engaging panelists, one of the specialties of ConDor.
The panelists (Samantha Henderson, actor-etc Bret Culpepper, author Eytan Kollin, and professor Michael Underwood) did a great job of both informing and welcoming comment from the audience; that whole dialog thing that makes small panels teh-awesome.
Book Repair
As dear as pointy metal sticks and the use thereof are to my heart, I love books even more. I read them to pieces. Literally. So this book repair panel, appearing at ConDor for the first time, was pretty much the one thing that I definitely didn't want to miss at the 2011 con.
And it was much awesomeness. I now know how to glue pages back into a book. And how to put the cover back on. And a cheap trick for prolonging the life of books that are going to get beat to all hell.
We were all gathered around Dawn Meister, holding our breath eagerly, taking notes and snapping up the repair supplies she generously brought for us. One of my compatriots remarked halfway through that Dawn's information had just saved her school hundreds of dollars.
Conclusion
So, in conclusion, ConDor 18: Weird Science was fun and informative as ever. A little wet, but that's becoming standard for San Diego in late February. It's a few days later and I'm looking forward to ConDor 19: Men in Black already.