Gaslight Gathering, Steampunky Goodness Just Days Away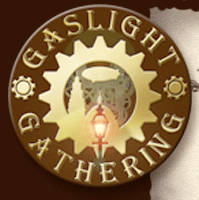 Around the Universe In 80 Hours
Gaslight Gathering, the first steampunk and Victoriana convention here in Southern California, is this weekend and I am just awash with excitement. I've got my sister and our mutual friend going with me and it's going to be a hoot!
Gaslight takes place May 6-8 here in San Diego and will be held at the Town & Country Hotel (500 Hotel Circle), which is a pretty, garden-ey venue just perfect for the Victoriana side of the event. The convention is split between two small buildings, joined by a shady courtyard, in the older part of the hotel. (Over where the Windsor and Chanticleer rooms are)
The theme for the event is the maiden flight of a mighty luxury airship, the ZRA Gaslight. So far it looks like they're doing a good job of bringing the theme in. They're calling the tickets "Boarding Passes" and giving the different membership levels names like "First Class", "2nd Class", "Steerage", and "Stowaway". And they've got mythology of the ZRA Gaslight airship that I heard is going to be posted in the Hall of Wonders exhibit. I assume the signage at the event will be thematic as well.
There are a slew of great steampunk author guests, including Kaja Foglio who writes Girl Genius with her husband Phil. (See, I knew the con would ask them to be on a panel once I heard they were one of the merchants.) Other author guests include Kim Newman, M.K. Hobson, Samantha Henderson, Zoe Archer, and William H. Stoddard (GURPS steampunk game book).
Other panelists and guests include folks like scholars, costumers, machinists, professors, prop experts, fans, etc.
There are workshops on everything from costuming and knitting to making ribbon flowers and other Victorian crafts.
There's also a Victorian spiritualist style seance, on Saturday I believe.
Other scheduled events include a Time Traveler's Masked Ball, Mother's Day Ice Cream Social ($15 for you, free for Mom), Concert ($20), Fashion Show, and a Dance. There's an Adventurer's Tea event, but that is unsurprisingly already sold out.
If you just want to go to an event but not the convention itself that's fine, you can buy a special "Stowaway" ticket that will allow you entrance for the evening events, but you MUST buy them by 5:00pm that day. NOTE: I don't know how this applies to events like the concert that you have to buy a ticket for – I think you just buy a concert ticket and don't have to worry about a "Stowaway" pass unless you want to do anything else at the convention that night.
Oh, and a Hall of Wonders with amazing devices and contraptions constructed my automaton builders and steampunk makers. That should be really cool. Especially since one of the Guests of Honor is Nick Baumann of the League of S.T.E.A.M.
And roving buskers and street performers. I heard there's also the chance of charity carnival games to benefit a local animal group (no official announcement on that yet, though).
There's also going to be a glamour photographer with a booth in the vendor hall. He'll also be taking portrait photographs during the Adventurer's Tea and at the Mother's Day Ice Cream & Sweets Social.
Online registration is currently closed, but you can buy tickets at the door (note, some events like the Mother's Day Social and Concert require buying a ticket some time during the day before the event starts – they won't sell event tickets at the door to the events). There are military and young adult discounts ($30). You can also buy a one day pass for between $15-$25, depending on what day it's for.
They're also still looking for volunteers, work a shift and and get in free that day. Which is a great way to both be part of the event and get to attend while watching that pesky budget.
I'm totally stoked. Hope to see you there.