Comic-Con Single Day Resales Selling NOW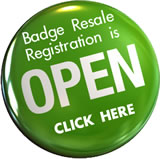 Comic-Con is RIGHT NOW selling single day badges returned by attendees!
'Course, I'm #6720 in line because I didn't check the San Diego Comic Convention Facebook page till 10:25 PST.
IMPORTANT: Do NOT refresh your browser once in waiting room or run the reg screen in multiple browsers.
When you click the Single Day Resale button you will be taken to a Comic-Con International 2011 page on EPIC that is JUST a waiting room. This page will autorefresh itself. You will totally screw up your place in the line to 'get in' and buy tickets if you refresh your page.
From the SDCC Single Day Ticket Resale Page on EPIC:
DO NOT MANUALLY REFRESH OR RELOAD THIS PAGE IN YOUR BROWSER! REFRESHING THIS PAGE OR RUNNING MULTIPLE "TABS" OF THIS WAITING ROOM IN YOUR BROWSER WILL SEND YOU TO THE BACK OF THE LINE. RUNNING MULTIPLE BROWSER WINDOWS OF THIS WAITING ROOM WILL CAUSE YOU TO BE PLACED AT THE BACK OF THE LINE. Your browser should have Javascript and cookies enabled to function reliably with our waiting room. These features are usually enabled in the default configuration of most modern web browsers. If you do not have these features enabled, please enable both now, close all instances of your web browser and start again from http://www.comic-con.org/cci/cci_reg.php.

Due to overwhelming demand for 2011 badges, all badge categories may be sold out before it is your turn to register. Your place in line does not reserve you a badge. Should badges sell-out before you are placed in your online registration session, this page will notify you with an update.

You may purchase up to (2) 1-day Comic-Con badges during your online registration session, while supplies last. If you would like to buy an additional badge for a guest, you must complete your first transaction and pay for your badge before you may purchase the additional badge. You will not have to return to the waiting room for your second purchase. Select the [Purchase Another Badge] button at the end of your first session.

Reading the Comic-Con badge resale information page will help you request your badge faster and may give you an advantage over people who do not choose to read this information. Registration information and instructions can be found at: http://www.comic-con.org/cci/cci_reg.php.