Steampunk at SDCC 2011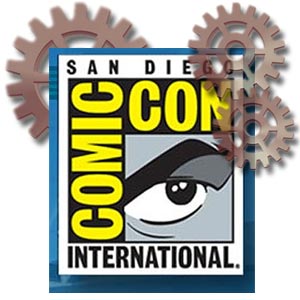 This week is the 2011 San Diego Comic-Con. As, uh, you may have noticed. Among the comic books and other pop culture fare is a thread of steampunkery woven by local groups, Mysterious Galaxy Bookstore, and our local steampunk convention Gaslight Gathering.
Here's a quick look at the various steampunk events, panels, artists, signings, etc. available to the intrepid con-goer for 2011:
Non-programming Events AT ComicCon
Saturday
2011 Steampunk Meet-up and Annual Starburner Awards at Comic Con
An awards ceremony for outstanding contributions to the Steampunk community. The 2011 meet-up will be held on Saturday, July 23, at 1:00pm on the stairs behind the Mezzanine. See the Facebook event for full details.
Panels
Thursday Arcana Comics: A Look at One of the World's Largest Graphic Novel Publishers
6:00-7:00 in Room 23ABC. In addition to talk about Arcana Comics, there will be a sneak peak at the 3D animated feature film Clockwork Girl.
The Scoop at Simon & Schuster!
7:00-8:00 in Room9. In addition to talk about the publisher's upcoming releases and other genreal plans, all panel attendees will receive a limited edition T-shirt for Cassandra Clare's Clockwork Prince.
Saturday 7/23:
Steampunk Influences on Mainstream Media and Entertainment
10:00-11:00 in Room 23ABC. Panelists are: Phil Foglio (Girl Genius), Kaja Foglio (Girl Genius), Greg Broadmore (WETA), Lon Muckey and Aaron Ginn-Forsberg (Mantecoza), and Thomas Willeford (Brute Force Leather). Will cover the appeal of the Steampunk aesthetic and the reasons for its increasing popularity. Moderated by Kim Hutsell of Starburner Galactic Courier Service. Sponsored by Gaslight Gathering, San Diego's new steampunk convention.
Spotlight on Anina Bennett and Paul Guinan
3:30-4:30 in Room 26AB. Panelists are: Comic-Con special guests Paul Guinan and Anina Bennett with moderator (and Eisner Award nominee) Shannon Wheeler for a multimedia panel spotlighting the creative couple's past and future work. Paul and Anina will perform excerpts from their book Boilerplate, which has been optioned by J. J. Abrams; talk about their comic book careers and becoming accidental apostles of steampunk; and give a sneak peek at their upcoming book Frank Reade: Adventures in the Age of Invention.
Sunday
Building the World of Leviathan, an Illustrated Steampunk Series
11:15-12:15 in Room 6DE. Panelist is: Bestselling YA author and Comic-Con special guest Scott Westerfeld (Uglies, Midnighters). Discusses how illustrated adventure novels disappeared in the early 20th century and how he worked with artist Keith Thompson to create one for the 21st, Leviathan, a steampunk reimaging of WWI. Lots of visuals (and some secret news about Uglies).
Autographs/Signings/Author Events
Mysterious Galaxy (local genre bookstore), booth #1119.

Scott Westerfeld (Behemoth)
See their website for full author list and schedules.
Tor Books, booths #2301/2303
Cherie Priest, Sunday at 12:00pm; Dreadnought giveaway.
Exhibitors
Comics
Arcana Studio, booth #2415 (Clockwork Girl)
Aspen Comics, booth #2321(Lady Mechanika, a steampunk comic book by Joe Benitez – plus an SDCC exclusive varient cover for Lady Mechanika #2, limited to 1000 copies)
Steamcrow/Monster Commute, booth #4207 (webcomic Monster Commute)
Phil & Kaja Foglio/Girl Genius, booth #1301 (webcomic/graphic novels/prose novels Girl Genius)
Yen Press/Soulless manga adaptation, booth #1116 (manga adaptation of Gail Carriger's paranormal steampunk historical fantasy Souless
Topatoco/Wondermark #1229 (shirts and webcomic Wondermark)
Publishers
Tor Books, booths #2301/2303
Small Press & Artist's Alley
Chet Phillips/Union of Superlative Heroes & Order of Nefarious Villains, #N-13 (Small Press)
Kelly's Heroes (Steampunk gadgets & more), #D-07 (Small Press)
Paul Guinan/Anina Bennett (Boilerplate), HH-15 & 16 (Artist's Alley)
Steampunk Community
League of S.T.E.A.M., booth #607

Merch

Dr. Grordbort/Weta Workshop, booth #2615 ('rayguns' and statues)
Brute Force Studios, booth #4919 (also known as Brute Force leather. Steampunk fashion and such)

Fan Tables

Dr. Steel's Army of Toy Soldiers, table #MZ-21
Gaslight Gathering (San Diego's local steampunk convention), table #MZ-11
IKV Stranglehold (Klingons known to often masquerade as Steampunks), table #MZ-02

Off-Site

The Time Machine – The Comic-Con Steampunk After Party!

The Time Machine is a multimedia steampunk concert/show/party being held Saturday night, July 23, from 7:00pm to 1:00am. Features bands Abney Park and Unextraordinary Gentlemen. Hosted by DJ Professor Greyshade of Chrononaut (San Diego's local semi-monthly steampunk party, kind of our Dorian's Parlor). The event is over at Queen Bee's (3925 Ohio St). Parking is nearby on 29th Street.

This is an all ages friendly event. Tickets are $27.