Firefly's Jewel Staite Celebrity Guest for Away Mission: Orlando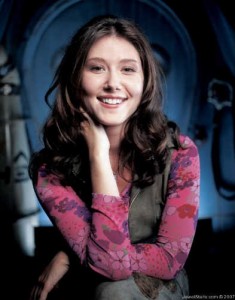 Vulcan Events produces several fan conventions each year. This October, 28-30 of 2011, they're bringing Away Mission: Orlando to Florida. They've announced their guest list for the sci-fi con and they've got Jewel Staite listed as one of two Celebrity Guests. (the other is that Patrik Stewart guy you may have heard of)
Jewel Staite is best known to fandom as Kaylee, the perky ship's mechanic on Firefly (Joss Whedon's space western). Other recent roles that fans know Staite for are "Dr. Jennifer Keller" on Stargate: Atlantis and "Heidi" in Bryan Fuller's Wonderfalls. Though to most fans she's the lovable "Kaylee".
Jewel will be at Away Mission on both Saturday and Sunday.
Vulcan Events has pay-for autograph and photo-with-the-stars sessions. Something that fans react to either with enthusiasm or annoyance (not a lot of middle ground opinions on the paying-for-autographs/photos issue). If you're in the enthusiasm camp AND a Jewel Staite fan than you are in luck. Photo Ops with Jewel at Away Mission will be $40 and autographs $30.
There's a note that Jewel's autograph will only be available at the event, which leads to the assumption that the actress doesn't typically sign autographs. Making it something of an Away Mission: Orlando con exclusive.
Vulcan Event's "Away Mission: Orland" convention will have a mostly Star Trek focus, though from Jewel Staite's Celebrity Guest status it's clear that the rest of sci-fi fanship is welcome. Away Mission will be held Otober 28-30 of 2011 at the Hilton Orlando Resort in Lake Buena Vista, Florida.
Tickets for Away Mission: Orlando have been on sale for some time so the ubber fancy membership levels are sold out. Well, except for a few of Bronze Reserved Weekend level ($89). Badges at the general membership level range from $20 (Sunday only) to $69 (weekend).