Steampunk Comes Back to Salem
Hey there, New England residents! Put on your best corsets and engineer's vests and head to Pickering Wharf in Salem, MA for the second annual Steampunk Invasion.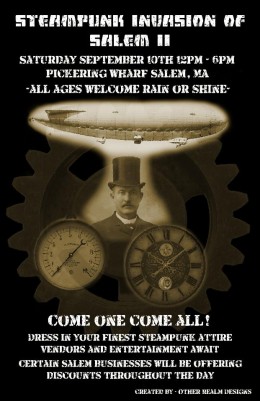 The event begins at noon on Saturday, September 10th . Hang out at the wharf and enjoy the live entertainment, or walk around the city and check out the local businesses. Some shops are offering discounts to those dressed in steampunk attire, so don't be afraid to strut your neo-Victorian style!
After 6pm you can catch an art exhibit at Fool's Mansion. Then the party continues at Darq nightclub at 9:30.
This is a great way to kick off the Halloween season. The best part is, it's a free event! Check out their Facebook page for more details.