Foo Fighters to Rock Out at BlizzCon 2011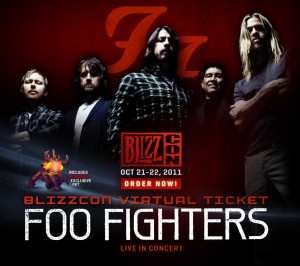 Just checked my email and saw an announcement from Blizzard (World of Warcraft,Diablo, etc.) that the Foo Fighters will be performing at the gaming company's big fan fest in Anaheim, California, this year.
BlizzCon concludes with a concert and for the 2011 convention the Foo Fighters will be headlining the closing event. The press release for the band's appearance at the con notes that this will be "…founder Dave Grohl's triumphant return to the convention after playing drums for Tenacious D in last year's show…"
Opening up the concert will be The Artists Formerly Known as Level 80 Elite Tauren Chieftain, who are making a repeat appearance at the event following a two-year interstellar tour through the Koprulu sector. (Because OF COURSE Blizzard Entertainment has an in-house metal band.)
The bad news, now, is that BlizzCon 2011 is sold out. The GOOD news, though, is that they sell a Virtual Ticket that lets you attend the convention via all those video cameras you always see at big fan events like Comic-Con. You can "attend" via your computer or, if you have Direct TV, your television. And purchasers of a Virtual Ticket get the same in-game goodies that physically attending Blizzard fans get.
And that includes the closing concert that the Foo Fighters will be headlining.
"There's no better way to cap off two days of gaming entertainment than by blowing the roof off the convention center with an awesome rock concert," said Mike Morhaime, CEO and cofounder of Blizzard Entertainment. "Everyone attending BlizzCon and watching from home can look forward to ending the show with a bang when Foo Fighters bring the house down."

"We're pretty sure that in the future, music historians will look back at BlizzCon 2011 as the unquestionable pinnacle of Foo Fighters' long and illustrious career," said Dave Grohl, Foo Fighters founder and frontman. "We look forward to living up to that prediction by bringing the Horde and Alliance together to rock the hell out of Anaheim next month."