Steampunk Haunted House in NYC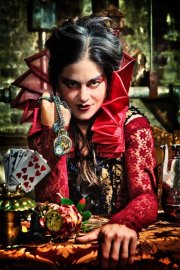 Going to a haunted house is one of the best parts about Halloween! There are many haunted attractions out there, but most of them are pretty much the same: blood, gore, carnage, more blood. Why not try something a little different for a change?
The Steampunk Haunted House is a more artistic haunted attraction. Located in New York City, it combines lush visual effects with creepy performance art inspired by Lewis Carroll's classic stories. Patrons are led in small groups through three levels of an old playhouse, from the dark basement to the sprawling balconies. In addition to the neo-Victorian theme, what makes this attraction unique is that it doesn't use any blood or gore effects.
Back for its third season, The Steampunk Haunted House is proving to be very popular with New Yorkers. It has been featured in the local press, as well on Culturebot and MSNBC.
Tickets are still available for the last week in October. Advance tickets are highly recommended, so buy yours today!