Star Wars Celebration V: 4 Days of Fun, No Disintegrations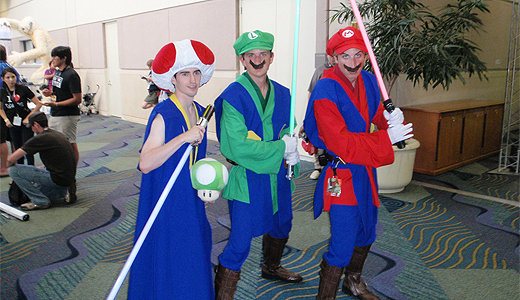 From August 12th to 15th, Star Wars Celebration V seized control of the Orange County Convention Center. Tens of thousands of Star Wars fans flocked to the streets of Orlando from all around the world and brought with them home made Stormtrooper armor, remote control R2-D2s, Slave Leia costumes and an insatiable thirst for action figures.
This celebration took place on the 30th anniversary of Empire Strikes Back, and so there were a variety of different Empire-themed decorations, including a life-size Wampa, a 15′ tall AT-AT and a fancy bar filled with ice sculptures.
Tickets for the show were over a hundred bucks for a four day pass, and there were several levels of different VIP access for much more. However, despite the relatively high cost, all four days were packed with tons of epic content and I believe it was a good value. (4 days at Disney would have set you back nearly 4 times as much, without bells and whistles like Park Hopper)
Fortunately for my lacking finances, I attended the show as a volunteer. This means not only did I get to go for free (after reimbursement) but I also nabbed 4 crazy orange volunteer t-shirts. The folks at Lucasfilm insisted on having a different t-shirt design each day for the staff and volunteer shirts. In practice, I rarely find myself wearing volunteer/staff shirts from a convention unless I'm at the convention, but it's still a perk. Another interesting perk: Staff and Volunteers had special access to the Show Store the night before the show officially opened so we could have a chance to ninja up some exclusive loot before they sold out.
For volunteers, the first day of the convention actually happens before visitors arrive. We get in early and spend a day stuffing bags with con-swag, setting things up, and trying to have some fun getting to know all the new faces. This show marked ReedPOP's first experiment with a Console Free Play room outside of PAX (Penny Arcade Expo), and since I had experience from PAX East, I got to spend a good part of Wednesday setting up 15 XBoxes and 32″ flatscreen TVs. With two people and only one screwdriver, this takes more time than you would think. In fact, just turning on 15 XBoxes each morning and making sure the controllers are all synched properly takes around 10 minutes.
If you've never been to PAX, the idea of Console Free Play (or CFP) is pretty simple. You basically sit down at an XBox, and play video games. At PAX, the equipment is largely borrowed from volunteers, so they have a complex inventory control system in place to ensure that the two hundred or so XBoxes and PS3s all get home to their rightful owners. At Star Wars Celebration, ReedPOP and PAX provided the hardware, and LucasArts provided the software, including Lego Star Wars, The Force Unleashed, Lego Indiana Jones, and several other titles.
I spent quite a lot of the convention in CFP, either by myself or with @h_e_e_l_s, ReedPOP's PAX Guy. At PAX, CFP sees a variety of ages, but at Star Wars, it was mostly kids. Strangely, I didn't mind essentially babysitting. The room mostly took care of itself. My main job was telling people that we didn't have any copies of Force Unleashed 2, which was only playable on the exhibit hall floor at the LucasArts booth. Friday in particular I spent a lot of the day in the room, folding paper cranes (a new skill I picked up the week before the show) and setting them out on the table for kids to take.
Part of being a volunteer is balancing out some funtime to go with the work, and in that respect, I had two goals for the week. I wanted to meet Ben Burtt, the mad scientist who created the sounds of Star Wars and played the voice of Wall-E, and I wanted to see the guys from Robot Chicken talk about their upcoming Star Wars special. Fortunately, both Ben Burtt and Robot Chicken had two panels spread out during the weekend. I missed both of their first panels, and this is a reality of volunteering. It's work. You can't always see everything you want to see.
Eventually, I was able to organize volunteers in advance of their second panels, and I got to see both the Robot Chicken crew and Ben Burtt, and they were fantastic. I also ponied up the $20 and stood in a short line to meet Ben Burtt and get his autograph on my copy of Wall-E. If you happen to see Ben Burtt is appearing near you, for whatever reason, make it a priority. The man is amazing. Also, if Robot Chicken is at a convention near you, get in line early. They're incredibly funny and they will fill any size venue at whatever con they attend. I also got into the first of two panels by the voice cast of the Clone Wars animated series, and just like at Otakon, I was fascinated by voice actors talking about the strangeness of their craft.
I was actually super lucky to have gone to the Clone Wars panel, because while I was helping control the line before the show, I met up with a crew of three guys dressed as Jedi versions of Mario, Luigi and Toad. They were fantastic. Their costumes were so cool and original, the guys running the Clone Wars panel picked them out of the audience before the panel started, and gave them a little impromptu interview. From meeting them in the line, I learned that their mother did most of the sewing work on the costumes, and despite begging, pleading and even bribery, they couldn't convince their sister to come along and be Jedi-Princess-Peach.
Something else you might need to know about Star Wars fans. Those Stormtroopers that you see around conventions? They're likely to be members of a fan organization called the 501st Legion. They're super organized, have meetings and stuff, and help each other craft the most amazing Stormtrooper armor possible. They also have a tradition borrowed from the military of having "challenge coins". The idea is, you carry this special coin around with you, and if someone else pulls one out, everyone has to show theirs, and whoever doesn't have one buys a round of drinks. At SWVC, the 501st presented the team from Robot Chicken with a set of challenge coins, and somehow, I managed to nab one of my own.
It was Sunday, and the 501st people who had flown into Orlando largely had to ship their armor home instead of taking it on the plane. Unfortunately, the FedEx office was kind of far from where their armor was stored, and not everyone had fancy cases with wheels. So I helped one of our volunteers carry her crate to FedEx, and she rewarded me with a challenge coin of my own. I look forward to brandishing it at New York Comic Con in October. Maybe if I'm super lucky, Seth Green will have forgotten his.
The bad news is, the next Star Wars Celebration likely won't be until 2013, for the anniversary of Return of the Jedi. I recommend you start saving now for a ticket, airfare and hotel. You'll thank me later.
(View all of the photos via The Convention Fans Blog official flikr stream)