Why I Wish San Diego Had a Comic Convention
I wish San Diego had a comic convention.
I know what you're thinking. I can feel you giving me an odd look through your computer. I can hear you snorting and saying, "Uh, ever heard of SDCC?"
Yes, I have heard of the San Diego International Comic Convention. I volunteered at Comic-Con in high school. I've attended SDCC on every pass type but Staff, Guest, and Press.
And still I say to you, in all seriousness, "I wish San Diego had a comic convention."
I don't mean to whine or brag, but I remember when you could stroll into Comic-Con on a Saturday afternoon and get a half price ticket.
I remember when: they first added the Small Press section to include members of the wild new indie comic scene; the "International" was added to their name; the Masquerade wasn't a ticketed event with hug-based line performance art.
Heck, I remember walking from one end of the Exhibit Hall to the other. And being able to actually get there. Without having to leave the Hall, walk around to another door, and come back in.
And so I can't help but feel a bit like my local comic convention has been hijacked by Hollywood.
Now, I don't want to sound like an elitist nerd. I think an inclusion of popular culture in Comic-Con has always enhanced it. Or, rather, it did. The media aspect has pretty much taken over at this point. No longer is Comic-Con a, you know, comic convention with pop culture fun. It's now a Class A hurricane of media hype and slavering TV fans. To the point of scams and violence
And I just want to go to a comic convention.
Get some back issues. Hear artists and writers talk. Meet some pros. Discover new indie graphic novels. Watch some anime. Play some board games. Maybe get in a nerdy argument with a stranger about the exact color of Conan's sword in the '90s cartoon.
Here's an Idea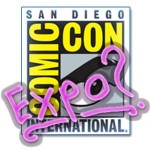 What about a small expo event early or late in the year? In San Diego of course, no fair moving it to San Francisco like with APE (and just as I moved back to SD from The City, too – my husband says it was the sun that drove them away).
The Long Beach Comic Convention and Big Apple Comic Con both have mini-convention events earlier in the year; the Long Beach Comic Expo and Big Apple 'Spring Edition' respectively.
Hey Comic-Con Non Profit, can San Diego have one too? I know, the major issue is scheduling around your other events (Wondercon in April, APE in October, Comic-Con in June/July) as well as other regional comic conventions (Emerald City in March, Long Beach in October, Pheonix Comicon and Stumpstown both in May). It's a big consideration, the question of "will anyone be willing to fly back to San Diego after being in the area just months before?" Especially for the indie and small press folk.
But still. There's got to be a way to pull it off. A mini version of Comic-Con's glorious early days too many of us fans have come to mourn.
*sigh*
Comic-Con is dead. Long live Comic-Con.