Steampunk Events for June 2011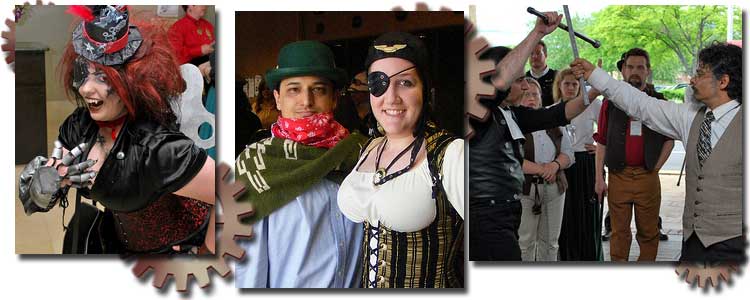 May, 2011, was practically Steampunk Convention Month. June doesn't have quite so many steampunk cons planned as May, but it does boast many interesting and unusual steamy events; cons, festivals, dances, etc. Including one convention that I'm REALLY looking forward to.
Steampunk Art Shows & Museum Exhibits for June 2011
When: May 5 – August 6, 2011
Where: TACtile Textile Art Center in Denver, Colorado
This is where past and future mechanical science meets Victorian romance and will feature fiber art interpretations of the Steampunk movement.
Steampunk Caberets, Parlors, and Parties for June 2011
When: June 25, 2011
Where: Davenport & Winkleperry in Pittsboro, North Carolina
$5 cover. Music from the times that have been and times that never were.
When: June 24, 2011
Where: Surly Wench Pub in Tuscon, Arizona
In celebration of International Steampunk Day. $5 cover charge. Fashion show, dancing, DJ, and other such amusements.
When: June 10, 2011
Where: Newport, Kentucky
Steampunk-themed cabaret present by the Queen City Cabaret. Featured acts include: Ford Theater Reunion, Deadly Sins Burlesque, Zahara's Tangled Web Belly Dance, Robin Marks Magic, and Pickiled Bros. Circus
Steampunk Conventions for June 2011
When: June 12, 2011
Where: MoTAT in Western Springs, Auckland, New Zealand
Presented by the Museum of Transport & Technology in New Zealand with sponsorship from WETA. This one day micro-con features LARPing, workshops, steam train rides, costume contest, and more.
When: June 10-12, 2011
Where: Kingdom City, Missouri
This outdoor steampunk festival has an airship pirate theme. One of the big planned events is a grand nerf gun war.
When: June 24-26, 2011
Where: Las Vegas, Nevada
This hybrid multi-genre fan convention combines steampunk, fantasy, science fiction, pirates, and horror all with a unifying theme of Western Martial Arts. There's quite an impressive array of steampunk programming on the CombatCon 2011 schedule so far. I am REALLY looking forward to this event.
When: June 30-July 3, 2011
Where: Bloomington, Minnesota
Steampunk convention celebrating yesterday's visions of tomorrow. This is the premiere steampunk event in the upper mid-west. Features musical performance by Paul and Storm (who JoCo fans will be quite familiar with).
Steampunk Fashion Shows for June 2011
When: June 24, 2011
Where: TACtile Textile Art Center in Denver, Colorado
Steampunk fashion show at the Steampunk: Mechanical Science meets Victorian Romance gallery exhibit.
Steampunk Teas & Picnics for June 2011
When: June 11, 2011 – 2:00pm to 5:00pm
Where:Loveland Castle in Loveland, Ohio
Facebook Event organized by LaKeshia Cassandra Dunigan. Dress in your steamy finery and come for an afternoon of tasty treats outdoors. Potluck style, so you'll need to bring something to share.
When: June 18, 2011 – 12:00pm to 5:00pm
Where:Big Spring Park in Huntsville, Alabama
Organized by the League of Cincinnati Steampunks who will provide tents and tables for this potluck event. You just need your picnic hamper and something to park your rear on. Oh, and $5 for entry to the castle grounds, which apparently has a rather winding road.
Steampunk 'Weekends' at Fairs & Festivals for June 2011
When: June 25-26, 2011/li>
Where:Big Spring Park in Huntsville, Alabama
The Kentucky Renaissance Festival goes from June 4 to July 10 (well, just the weekends) and has several themed days organized. The weekend of June 25-26, Magic, Mystery & KABOOM!!!!!!, is the Festival's official steampunk weekend. $2.00 off gate admission for revelers in steampunk attire.
Steampunk Workshops, Demonstrations & Classes for June 2011
When: June 18, 2011 – 8:00pm
Where:TechShop San Francisco in San Francisco, California
The League of S.T.E.A.M. invites you for an evening of enlightenment and entertainment with their Steampunk supernatural sleuths and paranormal protectors as they present The Benefits of Zombie Domestication.